Latest Articles
10th September 2023
A few youths in Nepal have initiated a legal technology venture which aims to make the legal services more accessible to everyone.
18th June 2023
Google boots far-right site from ad platform
18th June 2023
This feature will help viewers filter the Adverts.
13th April 2023
Facebook says the new design makes it easier to find features such as Videos, Games, and Groups.
3rd April 2023
Nepal's largest-selling brand LG has released its new year campaign, "Subhakamana Naya Barshako Sambandha Jeevanbharko," for New Year 2080.  This campaign offers attractive cashback and guaranteed gifts on purchasing any LG product.
31st March 2023
TCL, the world's No. 1 Android TV brand certified by Omdia, has launched a new year promotion called "TCL Cash Rain" in Nepal.
31st March 2023
CG, Nepal's largest electronics brand, has launched a New Year gift plan for its customers called "New Year 2080 C.G. Ko, Umang Nayapanko".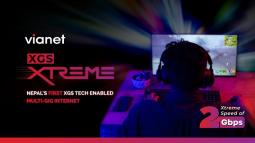 23rd March 2023
Vianet Communication, one of Nepal's leading internet service providers, has announced the launch of Nepal's first multi-gig Internet connection based on the latest XGS fiber technology with the unveiling of its 2Gbps XGS-Extreme package.
9th March 2023
G.O Automobiles Pvt. Ltd. launched the next-generation Ford Everest in Nepal on March 2, 2023, combining adventure-ready capabilities with great comfort and customer-focused technology in a rugged, refined, and fun-to-drive SUV.
15th February 2023
Vianet expanded its new branch in Urlabari of Morang district, Lalmatiya of Dang district, and Abukhaireni of Tanahu district.
18th December 2022
ZecOps said it found evidence that hackers have been using a malicious program since at least January 2018, gaining access to the iOS mobile operating system.
15th November 2022
Midea offers household items to make life simple and convenient in winter for its customers. Winter items such as kettle to make drinking water warm, various types of oil filled radiator heater, fan heater, PTC Ceramic Heater to keep yourself warm.
7th November 2022
In this offer, along with viaTV subscription, customers can now purchase Himalaya TV HD Premium Channel at Rs. 500 one-time charge to watch all Worldcup games live and also get up to a 51% discount on new Himstar TV sets ranging from 32" to 43".
7th November 2022
Sensei, a Japanese-designed Nepali electronics company, commemorates Dashain Tihar 2079. Targeting "Sensei 3 shock" of any Sensei brand goods released as part of the promotion Bumper gift of "R15 bike" and Apple iPhone 13 as well as Apple iPad 10.2.