Latest Articles
20th April 2021
The Santa Cruz is the pickup version of the next-generation Hyundai Tucson.
20th April 2021
The BenQ GV1 is a portable projector with a fashionable design. Flat slabs make up the vast majority of portable projectors
20th April 2021
The Great Wall Motor Haval Jolion will be available in Nepal soon
20th April 2021
Mercedes-Benz has finally revealed its flagship EQS sedan after weeks of teasers and updates
20th April 2021
OPPO F19 in the F Series offers a phone that strikes an all-around balance between performance and style.
20th April 2021
Helmets Nepal is a one-stop solution for all your riding needs with safety gears ranging from varieties of helmets, safety apparel lubricants and, riding techs.
19th April 2021
Mr. Govind Gurung who took the position of Deputy Chief Executive from 21 Asoj 2069 B.S. was appointed the CEO of Civil Bank on 11 Shrawan 2074 B.S.
19th April 2021
Quartararo qualified on pole for the first time since the Aragon GP last year
19th April 2021
MAW Vriddhi Commercial Vehicle Pvt. Ltd. has launched a 'Assured Buyback Scheme' for its Tunland E model
19th April 2021
With its world's first under-display camera, ZTE Axon 20, ZTE has had a significant impact on the mobile market
19th April 2021
Maruti Suzuki intends to release several of the new SUVs, including the new Vitara Brezza and the Jimny off-roader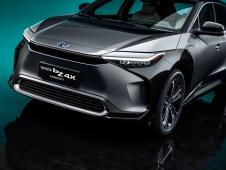 19th April 2021
They plan to produce the bZ4X in Japan and China and sell it worldwide by mid-2022.
19th April 2021
Bringing pride to Nepal DRS put up a fierce battle in the 24 matches in the final
18th April 2021
A national cleanup program by the Nepal Army along with Coca-Cola to conserve and protect the pristine Himalayan Mountains in Nepal.