Latest Articles
23rd September 2021
The Aerox 155 comes based on the company's YZF-R15 sports bike.
23rd September 2021
The RayZR 125 scooter has been introduced in three trims - Standard Rear Drum, Standard Disc, and Street Rally.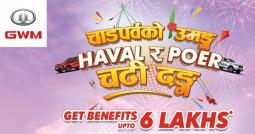 22nd September 2021
Great Wall Motor (GWM) is offering benefits up to 6 lakhs to the customers on the occasion of the upcoming Dashain Tihar and Chhath festivals.
22nd September 2021
Shangrila Motors Pvt Ltd has inaugurated the company's "La Maison Citroën" showroom in Thapathali, Kathmandu.
22nd September 2021
Kia Sorento Hybrid packed with 7-seater capacity.
22nd September 2021
Samsung Nepal announced the launch of the Samsung Galaxy A52s 5G in Nepal on September 21.
22nd September 2021
TVS Grand Dashain Exchange Mela' at the capital's Bhtikuti Mandap till September 22, 2021.
21st September 2021
2021 Yamaha YZF-R15 V4.0 has received a fully revamped styling that takes inspiration from the newly Yamaha YZF-R7.
20th September 2021
Redmi 10 Prime with Helio G88, Quad Rear Cameras Launched in Nepal.
19th September 2021
Motorhead Tekken R250 Launched In Nepal at Rs 4.05 Lakh.
17th September 2021
Classic wheels Export and Import' has come up with Dashain offer.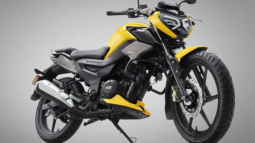 16th September 2021
TVS Raider 125 is a rival to the likes of the Bajaj Pulsar 125 and the Honda CB Shine SP.
15th September 2021
iPhone 13, iPhone 13 mini, iPhone 13 Pro, iPhone 13 Pro Max launched.
14th September 2021
Nepal Telecom is going to launch 'Namaste-Pay' digital payment service on Tuesday (September 14, 2021)