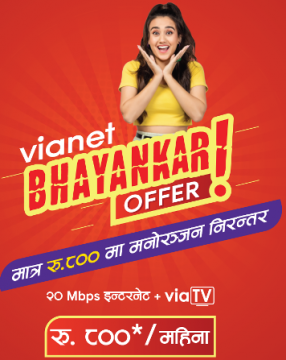 Vianet | Best ISP in Nepal with rates as cheap as Rs 800 per month.
18th March 2021
"Vianet subscribers can now enjoy a combined plan of 20 Mbps internet and Via TV's 175 plus channels at only Rs 800 per month. "
The number of internet users increased by 567,000 (5.5%) in Nepal between 2020 and 2021. With this high demand for the best internet service, in February Vianet has introduced a special offer that provides top-notch service at a cheaper rate.
According to the recent offer Vianet subscribers can now enjoy a combined plan of 20 Mbps internet and Via TV's 175 plus channels at only Rs 800 per month.
Ten years ago, the internet was still a very expensive commodity in Nepal. Now we have witnessed so many people survive the lockdown of 2020, mostly because of the internet.
Going online a few hours in a day or even a week was enough, now our day starts with social media and ends with falling asleep on YouTube videos.
Internet service providers (ISPs) like Vianet have played a huge role in keeping up the online lifestyle of the general population.
With around 200,000 subscribers, Vianet is definitely one of the top names in ISPs in Nepal.
Brief History:
Through 21 years of operation, Vianet has witnessed a huge leap in the world of internet technology.
They have worked along through the changes in the industry and have managed to secure their position as one of the best players in the ISP business during this golden period of the online community.
Started in 1999, they always remained at the forefront providing reliable and affordable services from the days of dial-up to the glorious era of broadband internet.
They became a pioneer in 2011 when they introduced Fiber Optics Internet (FTTH) to Nepal. At the beginning of 2016, Vianet launched the Fiber Home Rush package for home users.
This package featured a speed boost option from 2 Mbps (default speed) to 10 Mbps up to 80 GB per month with a fallback of 512 Kbps.
In June of the same year, they upgraded the home packages and also introduced SoHo (Small Office/Home Office) package.
SoHo network allowed entrepreneurs and small business owners in Nepal to access smaller networks necessary for daily works.
This type of network is configured for privately owned businesses or individuals who are self-employed. They partnered with NET TV to provide IPTV services with more than 190 channels to customers in the same year.
Starting a partnership with Nokia, in 2018 Vianet announced their plan to build Ultra-Broadband Internet Capable Fiber Network Nationwide.
They aimed to gain 200,000 users by 2019 with the Ultra-Broadband Internet.
With this kind of technology, the users could seamlessly transition towards highly demanding Internet applications such as Ultra High Definition (4k) videos, IPTV, online video streaming sites, and virtual reality.
Vianet Services:
Overall services provided by Vianet can be divided into 5 categories:
i) Home Plan
This plan is for the personal/family consumers that use the internet mainly for entertainment and social media. In this plan the vianet subscribers can get the packages upto 60 Mbps. There are 4 packages you can get under the Home Plan or "All Gun Sampanna Internet" by Vianet:
> Bhayankar 20 TV+ (20 Mbps at Rs 800 per month)
> Gun Sampanna 30 TV+ (30 Mbps at Rs 1250 per month)
> Gun Sampanna 40 2TV+ (40 Mbps at Rs 1450 per month)
> Gun Sampanna 60 3TV+ (60 Mbps at Rs 1800 per month)
Please refer here for more info: Home Plan by Vianet

ii) SoHo Plan
Vianet's SoHo plan is meant for use in small-sized Nepali businesses. They are basically small LANs (Local Area Networks), typically consisting of less than 10 computers. This plan is of great value to Nepali young entrepreneurs in implementing their ideas in the business world. Vianet's SoHo plan comes in 3 packages:
> Fiber Biz Silver TV+ (25 Mbps unlimited at Rs 25,050 per year)
> Fiber Biz Gold TV + (35 Mbps unlimited at Rs 35,650 per year)
> Fiber Biz Platinum TV + (50 Mbps unlimited at Rs 65,650 per year)
Please refer here for more info: SoHo plan by Vianet

iii) Corporate Plan
Corporate Plan by Vianet is suitable for large corporate houses and huge enterprises that require an
uncompromised quality and reliable internet connectivity while integrating and adding other services within a package as required.
Please refer here for more info: Corporate Plan by Vianet
iv) Via TV
Vianet was the first ISP to introduce the first IPTV in Nepal. Now called Via TV is Vianet's own IPTV Solution and has replaced NetTV service. The users have access to an international range of quality TV channels, a wide collection of international and local movies, TV shows and exclusive Via TV contents. In this plan users also get ACR (Automatic Channel Recording) that automatically stores all TV shows from HD channels for 7 days and SD channels for 3 days. Charges for Via TV starts from Rs 3850, that includes set top box activation and 250+ channels.
Please refer here for more info: Via TV
v) Web Hosting
Web Hosting by Vianet allows you to design and develop your websites. Web hosting is the process of renting or buying space to house a website on the World Wide Web. Website content such as HTML, CSS, and images has to be housed on a server to be viewable online. Vianet's web hosting comes with three packages as well.
> Economy (1 Domain, 2GB storage, 2 GB traffic at Rs 14000/year)
> Deluxe (1 Domain,10GB storage, 20 GB traffic at Rs 18000/year)
> Premium ( 1 Domain, 25GB storage, 100 GB traffic at 25000/year)
Please refer here for more info: Web Hosting by Vianet
Additionally , Vianet also includes the following features into its internet package:
Ultraboost: Speed boosted up to 100Mbps for a fast workflow

Service Assurance: Compensation against internet outage

Viasecure: Monitoring & controlling contents on the web for child safety
Compiled by : Raj Kapali