All About Apple September 2019 Event
12th September 2019
"Apple Arcade a Gaming subscription service , Apple TV+ Subscription based streaming service, New iPad, New Apple Watch, New A13 Bionic chip, three models of iPhones namely iPhone 11, iPhone 11 Pro and iPhone 11 Pro Max were launched"
Apple September 2019 Keynote Event was held in Steve Jobs Theater, Cupertino California . Apple CEO Tim Cook started the event by welcoming all the people present for the event immediately followed by revelation of many great announcements on its way. Those of you who didn't see the live event, here is the quick summary: Apple Arcade a Gaming subscription service , Apple TV+ Subscription based streaming service, New iPad, New Apple Watch, New A13 Bionic chip, three models of iPhones namely iPhone 11, iPhone 11 Pro and iPhone 11 Pro Max were launched with additional new announcements like Apple Retail. And now lets dive into the nitty-gritty of all the announcements.
Apple Arcade
Worlds first subscription based gaming service, the Apple Arcade was announced in the Keynote event. Apple Arcade is a subscription based Gaming service which will be available in the App Store. The great feature of this service pointed was no individual game payment required. The users subscribed to the service will be able to download and play as many Apple Arcade exclusive games as they desire, no strings attached. For this service, Apple is partnering with game developing companies like Konami, Capcom, Annapurna Interactive, Lego and many more to bring exclusive games to the service. Apple Arcade will be available in the App Store from September 19 in 150 countries and will start at the price of just $4.99 per month for the whole family.
Apple TV+
From the looks of it, Netflix got a new competitor in town. Apple announced their own Subscription based Streaming Service, the Apple TV+. Apple is working to bring exclusive original stories and contents to their own streaming service. In the event, short descriptions of Apple TV+ exclusive contents like For All Mankind, The Morning Show and SEE were given. The first shows will be available from November 1 and plans of adding new shows every month. Service will be available in more than 100 countries at launch and will be available starting at $4.99 per month for the whole family.
Tim Cook also surprised the audience with the announcement of a new offer. Customers who will buy Apple products like iPhone, iPad, Mac or Apple TV one year of Apple TV+ service will be provided for free.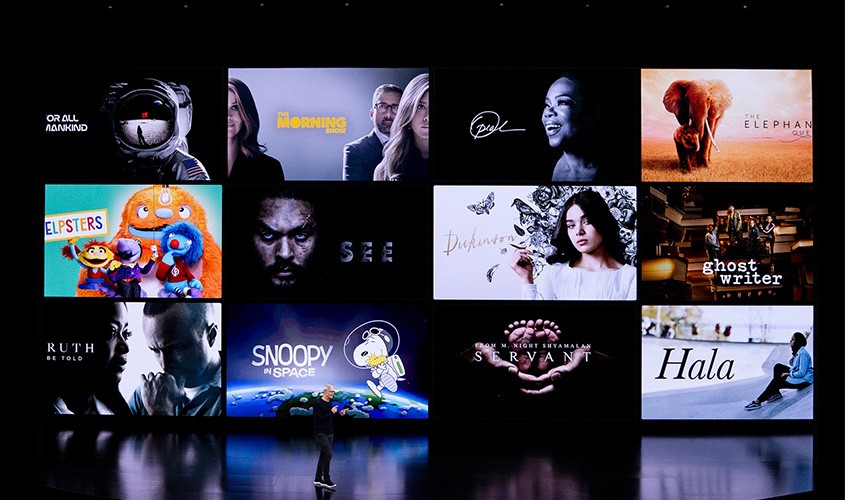 Ipad
All new base model iPad was announced in the event. 9.7 inch 6th Gen iPad is replaced by the all new 10.2 inch 7th Gen iPad. The new iPad has a 10.2 inch retina display with 3..5 million pixels, 2.5 times brighter, 3.7 times wider viewing angle. The new iPad is powered by A10 fusion chip which the Apple claims to be 2 times faster than the most sold PC of 2019 in America.
The new iPad now also has smart connector which will allow the users to connect full size keyboard which will also fold into a protective cover. The newly announced iPad has a redesigned home screen, deeper integration with the Apple Pencil, Desktop class browsing in Safari and many more new features. Multitasking in iPad has also been improved and Safari now features desktop grade surfing, document editing directly in the browser. All these features are possible thanks to the integration of iPadOS.
There are things iPad can do which it couldn't do in the past. Now users can connect SD cards and thumb drives directly to the iPad and can transfer data without any issue. New tools are added in the photos app which will allow to edit videos, add filters or even rotate the video if necessary.
It was also pointed out that iPad this year is made from 100% recycled Aluminum and the price of the iPad starts from $329 for the normal customers and $299 for the Education customers. iPad will be available from the end of the month.
Apple Watch
Apple's 4th Gen Apple Watch is now replaced by 5th Gen Apple Watch. The new Apple Watch features many new features that older generations lacked, main one being Always On Retina display. The display used in the new Apple Watch features LTPO (Low Temperature Polysilicon and Oxide) technology which allows dynamical refresh rate of as high as 60hz and as low as 1hz per second. This makes the watch power efficient to give 18 hour of battery life. The Apple Watch now also features an in-built compass which will allow users to know their direction, longitude, latitude, current elevation and inclination via compass app.
Along side Apple Watch also has integrated safety features like Fall Detection, Emergency SOS, Medical ID. Cellular Models has International Emergency Calling feature which will allow to make emergency calls without iPhone.
Apple Watch will be available in Aluminum, Stainless Steel, the all new Titanium and Ceramic in many colors. The GPS models of the watch is priced at $399 and Cellular models at $499.
The 3rd Gen Apple Watch is now down to $199.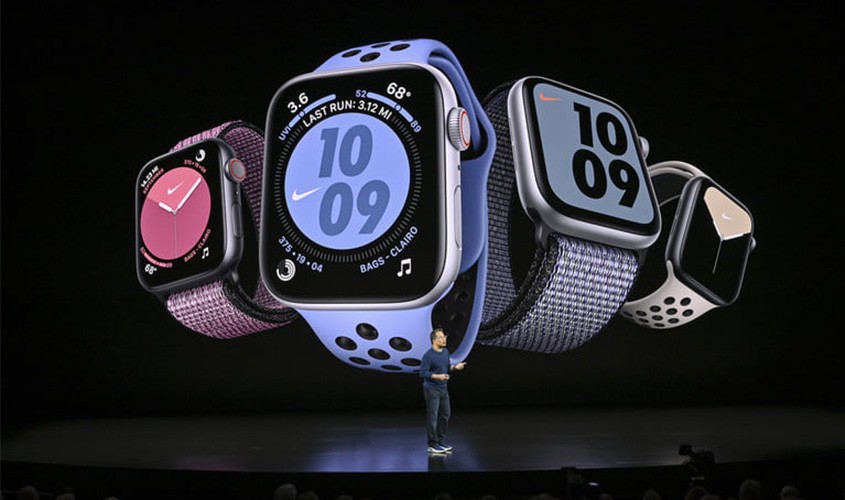 iPhone
Finally to the main topic of the event, the all new iPhone 11. The new iPhone 11 features a 6.1 inch liquid Retina Display and Spatial Audio Sound supporting Dolby Atmos which gives immersive Theater like experience. IPhone 11 also features dual camera setup first sensor being a 12MP wide camera with Optical Image Stabilization and 100% Focus Pixels and secondary sensor being 12MP Ultra Wide Camera with 120 degree field of view.
Talking about the other features of the cameras, one of the new feature added is Nightmode which turns on Automatically when the light is low. On the video side both the sensors can take 4K 60fps videos. On the front of the device lies a 12MP TrueDepth Camera for selfies which also can take 4K videos at 60fps as well as Slow motion which Apple calls Slowfie.
The new iPhone 11 is powered by all new processor the A13 Bionic chip. Battery used in iPhone 11 is estimated to give 1 hour more battery life than the iPhone XR. Finally the price of the phone, the device is priced at $699 and is open for booking now.
iPhone 11 Pro and iPhone 11 Pro Max.
Apple's first Pro device is here. Powered by the same A13 Bionic chip, there are some key difference between Pro and the non Pro models. The device frame is made from Surgical grade Stainless Steel frame and the back is made from single piece of machined glass with optical PVD coating. The devices are available in midnight green, Space gray, Silver and Gold.
iPhone 11 Pro boasts a 5.8 inch 2436x1125 458ppi display where as iPhone 11 Pro Max boasts a 6.5 inch 2688x1242 458ppi display. The display used in the devices is called Super Retina XDR display and features HDR10 Spatial Audio Sound.
In the event it was pointed out that the iPhone 11 Pro will last 4 hours more than the iPhone XS where as iPhone 11 Pro max will last 5 hours more. To charge the bigger battery in the iPhone Pro and the Pro Max, 18 Watt Fast Charger will be included in the box.
Talking about the camera Pro versions have a triple camera setup in which two cameras are carried from the iPhone 11 with the addition of third camera sensor being a 12MP Telephoto camera with Optical Image Stabilization.
A new feature which will be available in the Fall of this year via Software update was also announced. The feature is called Deep Fusion which is a new Image Processing System. It uses the Neural Engine of the New A13 bionic chip to process the images. In the image processing, camera takes 4 Short images and 4 Secondary images before the shutter is pressed. After the shutter press, sensors take 1 long exposure image from which best images is than selected and fused to give a high quality image with reduced noise.
Price of the phones, iPhone Pro is priced at $999 and iPhone Pro Max is priced at $1099 and the phones will be available form September 20.
Not only that price of previous generations of the phones has also been lowered; iPhone 8 price is dropped to $499 and iPhone XR is dropped to $599.
Price of all iphones in one place
Compiled by :
Biplav Gachhadar