Daraz is back with biggest online sale
4th November 2019
"Customers using their Debit/Credit Card to pre-pay for their purchase will get additional discount of up to 20% or Rs 3500"
With the tagline #ekdinkosale Daraz is in full preparation for its upcoming 11.11 sale. A Press conference was held by Daraz to give insights about its upcoming 11.11 sale. The press meet was addressed by Lino Ahlering, Managing Director, Daraz Nepal and Bimal Aryal, Chief Operating Officer, Daraz Nepal who provided insights into the 11.11 sale.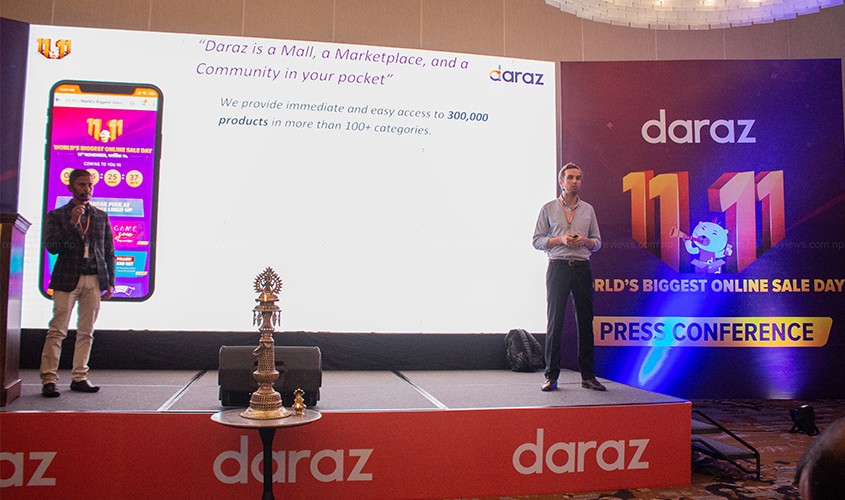 Briefing about the history of Daraz Nepal, Lino showed how 11.11 sale started in Alibaba 11 years ago and became the world's biggest online sale. Daraz introduced the 11.11 sale in Nepal in 2018 after its acquisition by Alibaba. Daraz witnessed an 80x increase in sales in a single day. Over 2 lakh users visited the Daraz app and had access to more than 1000 sellers & brands on that day. This year, the sale is going to be much bigger: Daraz is offering deals on more than 3 lakh products, and expects to host a monumental 3.5 lakh visitors on its platform.
Lino said, "We received an overwhelming response for the very first edition of the 11.11 sale in Nepal and also learned about things that we must work on to make it better. Thus, this year, we are making it even bigger and better with more than 3000 sellers, banking partners, and a better logistics system. With all the experiences gained from all the campaigns leading up to 11.11, we are confident about providing customers the best possible service"
Changes Daraz has made since last year to improve customer experience was showcased. During presentation LINO talked about, the new personalized app giving each user a unique experience. Daraz Mall will follow favorite brands, offer pre-payment via Debit/Credit cards and maintain Message Center to keep all user information in one place and instant messaging/Q&A feature for instant queries.
One point on which he focused largely on was the pre-payment feature. Customers using their Debit/Credit Card to pre-pay for their purchase will enjoy additional discount of up to 20% or Rs 3500. Customers using debit/credit card of banking partners, Sanima Bank, Nabil Bank, Nepal Investment Bank, Megha Bank and Standard Chartered Bank will get 20% discount. He also talked about many interesting vouchers to grab even more discounts during the purchase.
In the conference, Mega Giveaway for the 11.11 sale was announced. Customers buying from Daraz in this 11.11 sale will be eligible to win a brand new Yamaha Ray ZR STREET RALLY. Other Megha Deals for this year's sale includes Daraz Saathi (Referral program), Shake Shake, Early bird offers, Bundle offers, Flash Sales, a whole lot of Sizzling Vouchers, Hot Picks, and much more.
Anil Shah, CEO of Nabil Bank addressing the audience said, "When supermarkets first arrived in Nepal, Nepalese were very skeptical about the quality and price of the products there. But with time Nepalese people have fully embraced these big supermarkets. Thus, seeing Daraz's success, it shows that even though online shopping is relatively new in Nepal, people are starting to accept it. However, one bad experience and a customer is lost forever. Therefore Daraz also has a lot of struggle to do. However Daraz has continued to win people's trust and Nepalese society has fully embraced online shopping."
Daraz has hired 400 additional delivery riders and 50 more customer Care Agents, created 14 collection points, increased Hubs from 6 to 17(11 inside valley and 6 outside valley). Bimal Aryal, Chief Operating Officer of Daraz said, "Daraz has been gearing up for the 11.11 sale event for the past few months. For the 11.11 campaign alone, Daraz, has hired 400 additional Delivery heroes (delivery agents) to manage the hundreds and thousands of orders expected during the sale."
Compiled by :
Biplav Gachhadar