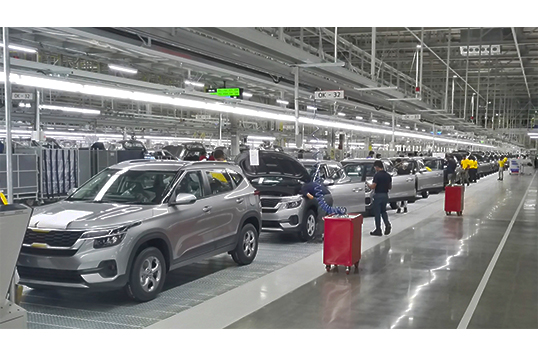 Kia Motors officially opens its new Indian production facility
8th December 2019
"Kia plans to strengthen its innovative brand image and digital leadership 1) Introduction of fully digitized sales and service channel for customers 2) Kia expanding its future mobility business through various partnerships"
Kia Motors Corporation has officially opened its new Indian production facility today in Anantapur district, Andhra Pradesh. Following a USD 1.1 billion investment by Kia, the new Kia Motors India (KMI) manufacturing plant is now fully operational.
The grand opening ceremony takes place just two years after construction began in the fourth quarter of 2017. The KMI plant is the new production home for Kia's first 'made in India' product, the Seltos compact SUV, with other models to follow in the future.
The inauguration ceremony was attended by the Honorable Chief Minister of Andhra Pradesh Shri Y. S. Jagan Mohan Reddy and His Excellency, Mr. Bongkil Shin, Ambassador of the Republic of Korea to India. The ceremony was led by Mr. Han-Woo Park, President, and CEO of Kia Motors Corporation, Mr. Kookhyun Shim, Managing Director and CEO of Kia Motors India, and key leaders from Kia Motors India.
"We are proud to open our new production facility in Anantapur today," said Han-Woo Park. "Now fully in operation, our new plant allows us to serve the growing Indian car market, and export models like the Seltos to markets across the world in major regions. In the longer-term, it will also become a vital part of our global production network."
Compiled by :
Debashish S Neupane