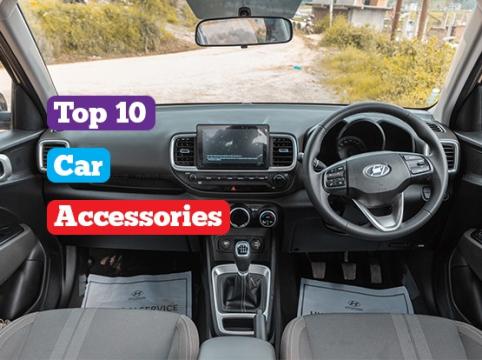 Top Ten Car Accessories
21st September 2019
"You will need these accessories as soon you buy a new car."
The following is the list of Car Accessories that we found best for the Nepali Market.
---
1) Bluetooth Receiver
Most of the latest cars include inbuilt Bluetooth, but if your car is still living in the past, this little gadget can bring it back to the present. As it's powered by a rechargeable battery, you don't need to worry about a constant power source -the battery lasts about a week for normal usage. Simply plug the device into an aux port, make sure your media player is in aux mode and connect your device. It also contains a microphone to enable you to answer phone calls on the go. Enjoy wireless music and handsfree phone call service with this purchase.
2) Key Finder
Do you struggle to find your keys or wallet, especially when you are in a hurry? Well, worry no more! With this device, you no longer need to waste time trying to find your precious items. Simply attach the receivers into any four items, and when you need to find them, use the transmitter to hear them beep and blink. Transmitting distance is up to 40 meters. Although it feels a little cheap to the touch, it does its job, making sure you don't lose your valuables.
3) Trash Can
Knowing Nepalese people, when we typically have trash in the car it's most probably going to be thrown out of the window or into the depths of the edge of your car seat. This product is a must-buy for every car owner as it keeps not only your car clean but the very roads you use daily. The bin can be conveniently hooked at the side of your door or the backside of your seat without taking up much space and can hold about 2-3 days worth of trash.
4) Back Seat Organizer
If you are always on the go and can't stand a mess, this product will organize the plethora of items cluttering your car. With hooks to hang onto the seat (compatible with any car), this product will allow you to store items such as umbrellas and tissues, and it even has a large compartment for emergency clothes. It can hold your tablets and phones, whilst protecting your back seat from scratches and spills. If you need a little more organization in your car we highly recommend this product.
5) Phone mount
Imagine driving around a busy road and hearing your phone ring in your pocket. Fumbling for your phone is a highly inconvenient and dangerous task whilst attempting to swerve through the chaotic city traffic. By attaching this phone mount onto the dashboard, you can at all times have easy access to your phone. Additionally, if you are unfamiliar with a particular destination, you can use popular maps services such as the one provided by Google to guide you and have easy access to your phone at all times.
6) Mirror Holder HD Video Screen
There's a big windshield for us to see through the front. But the procedure to back is always a headache with the two side and one center mirror. This is a product that fixes a screen on your central mirror and connects it to the camera drilled in the back of your car. It reduces our efforts of turning back again and again by simply putting the video of the rear end in the front screen. It also supports motion detection and gives you signals right away when you are about to hit a wall or if somebody comes towards the car.
7) Air Freshner
Smell is associated with attraction. You might have a shiny car and clean seat but it wouldn't be enough unless it smells nice. The car parked under the hard sun tends to have a pungent smell with the heating of leather covers of the seat. A good air freshener would be a golden investment for your car. It will only look classy if it smells classy.
8)
Owning a car is fine but protecting it from dust and dirt is a tedious thing to do. Plus, the sun fades the color of the car and makes it look older than it actually is. The birds who play target practice with your car and the caterpillars strolling around might be a part of nature, but not for your car. Cover your car with it and early in the morning, you wouldn't have to deal with problems nature might cause for your car.
9) Tire Inflator
Imagine going on a long trip, far away on your four wheels. The weather is so pleasant and the song in your stereo complements it. But when a tire gets deflated, you can do nothing about it. Consider buying a tire inflator to get back on the track again. The car tires can't be inflated with your mouth just like the balloons, plan ahead for your next road trip.
10) USB car phone charger
USB car phone chargers are the supplementary boon to the humankind and you can keep it on your car accessories list as it is one of the most used tool and in a budget. You can now unlimitedly listen to songs connecting your phone to the Bluetooth stereo, watch a movie and if the battery gets drained, there is a charger connecting directly to your car's battery.
Compiled by :
Biplav Gachhadar