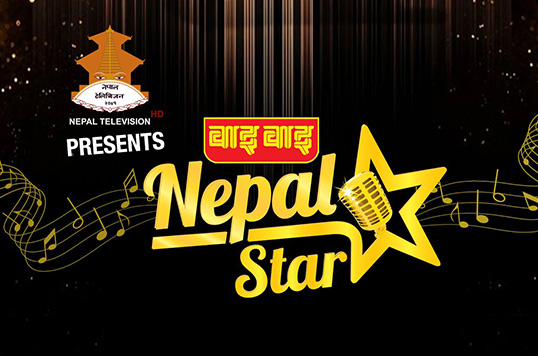 Wai Wai Nepal Star- Nepal's Own Brand New Singing Reality Show | Audition
26th January 2020
"Wai Wai Nepal Star- Nepal's own singing reality show."
Wai Wai Nepal Star- Nepal's own singing reality show. It will be broadcasted only on Nepal Television. Participants from age 16-45 years are eligible to take part in the Nepal Star competition.
Nepal Star program is a singing reality show based on Nepali singing competition and is being produced in collaboration with Nepal Television with their technical support and production by Key advertising. The viewers can watch Wai Wai Nepal Star every Saturday on Nepal Television at 9 pm from 24th Falgun, 2076 (7th March 2020).
The program, Nepal Star will be of 36 episodes starting from Falgun 24th every Saturday of duration 1.25 hrs.
Nepal Star Audition
For this, the audition will be held in a total of 8 places, the seven auditions have already been held in Itahari, Bardibas, Chitwan, Butwal Pokhara, Surkhet, and Dhangadi.
The Kathmandu audition of Nepal Star will be held on 31st January 2020, at Golden Gate International College, Battisputali from 9 AM onwards.
The form for participation in Nepal Star: https://bit.ly/2sYDLmJ
Make sure to take a couple of your passport size photos and an Identity Card (Citizenship, passport or driving license)
Nepal Star Selection
Approximately, 150 contestants will be selected from the Nepal Star Auditions held at 8 places and there will be Top 30 round in which there are 6 contestants from outside Nepal for Nepalese and Non-Residential Nepali (NRN) through a digital audition and Top 4 will be selected for the Grand Finale.
Nepal Star Prize
Total Prize money is 50 lakhs. The top 4 will receive 5 lakhs each and the winner will get 30 lakhs and an additional 5 Lakhs as one of Top 4 finalists.
Nepal Star Judges
The judges for the program are Anju Pant, Alok Shree and Ram Krishna Dhakal.
For further details, contact: 014251940, 9804680651 - Nepal Star Official
Also Read: WAI WAI NEPAL STAR: A NEPALI SINGING REALITY SHOW AIRING DATE ANNOUNCED
NEPALI SINGING REALITY SHOW "NEPAL STAR" SPONSORED BY WAI WAI
Compiled by : Samana Maharjan