Realme, brand with 800% annual growth in Q3 2019
3rd November 2019
"Realme among the very first brands to bring premium features like quad-cam, 64MP rear camera, water-drop design, pop-up selfie in the budget segment phones"
Smartphones has become intimate part of our life. Thanks to smartphones we dont have to carry a camera, wear a watch, buy an alarm clock, carry a map to navigate, carry a player to listen to music, phones to make calls and messages and many more. Thing is smartphones has made our life easier. From alarm to cameras, songs to videos, Instagram to Facebook everything is in our smartphones. And smartphones are constantly evolving. New features come to the smartphone industry at the rate that it cannot implement those features all at ones. This is one of the cause which has slowed down sales of many companies. No customer is going to buy a brand new device for a smaller upgrade the company is providing in the new device. This is not about one particular brand, this sales slow down can be seen in the global level.
Talking about the global smartphones sales, Overall market size has been shrinking showing negative growth for 7 consecutive quarters with most of the brands showing negative growth. But according to a report by Counterpoint some smartphone brands like Realme and Xiaomi has been constantly growing and showing positive growth when the sales market is somewhat stagnant.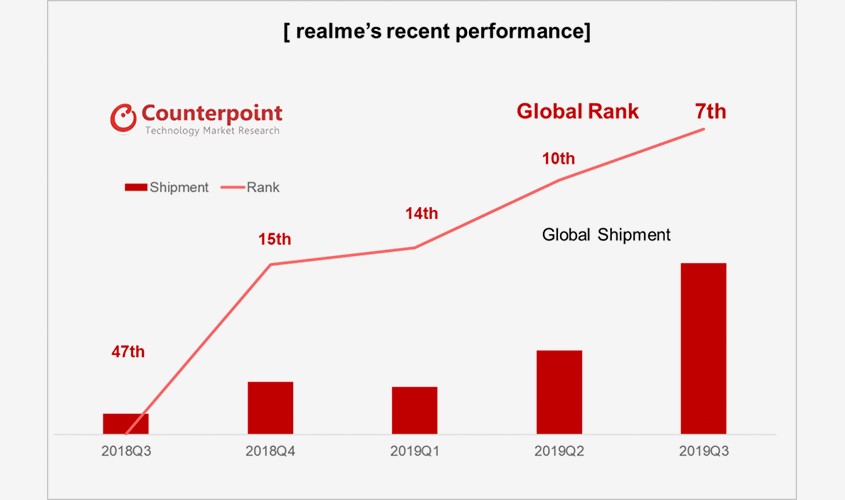 The most notable growing brand this year has to be realme takes the 7th spot in the Q3 shipment result. Realme's shipment in Q3 of 2018 was just 0.3% fast forward a year and shipment has bumped to 2.7% allowing the company to take 7th spot. Not only that realme also remained in the top 5 brands in India list consecutively for four Quarters. realme jumped from 14th position in Q1 to 10th postion in Q2 again jumping to 7th position in Q3 of 2019.
Established in May of 2018, making it just a year old in the smartphone market has shown a significant growth in this time. It has become the fastest growing smartphone brand and has registered over 800% annual growth in Q3 2019. It shipped over 10 Million smartphones in the time period and was successful to grab the 7th spot in Global Smartphone sales list of Q3 2019.
How realme became the fastest growing smartphone brand ? Answer would be India and Indonesia. realme's most important markets are India and Indonesia accounting to 80% of its market share. In India realme ranked 4th in the smartphone market with 16% share. Its aggressive online strategy also played a big role in achieving in this milestone. In Indonesia, realme was the fastest brand to reach one million units in Q3 2019. strong sales of realme C2 and realme 3 played a huge role in achieving that.
Another reason for such growth of this brand has to be fast execution. realme has been quick to bring premium features to the budget segment and mass market attracting many new customers looking for premium phones in a budget. Realme was among the very first brands to bring premium features like quad-cam, 64MP rear camera, water-drop design, pop-up selfie in the budget segment phones which ranges from $100 to $250.
Also read: GLOBAL SMARTPHONE Q3 2019 REPORT
Compiled by :
Biplav Gachhadar