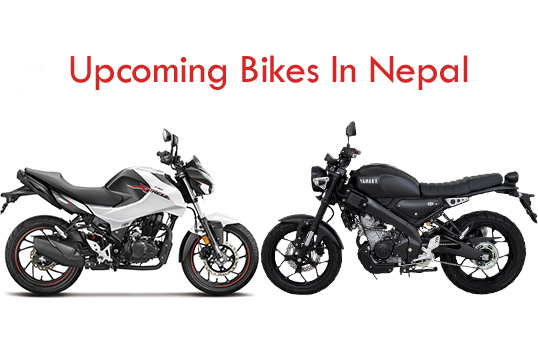 New Upcoming Bikes in Nepal 2022 | Specs, Price Expectation
5th May 2022
"With a large number of sales, it can be considered natural for two-wheelers to come up with new models."
Two-wheeler vehicles (Bikes) are most commonly sold in Nepal. With a large number of sales, it can be considered natural for two-wheelers to come up with new models.
The motorcycle dealer company has made the engine model, style and performance of the international market the mainstay before bringing the new model bike for sale in Nepal. In this way, here we have tried to give information about three popular bike models that may come to the Nepalese market.
New Upcoming Bikes in Nepal 2020
Hero Xtreme 160 R
A few days ago, Hero announced its three products to the Global Center of Innovation and Technology in Jaipur. It has Hero Xtreme 160 R as the new product. The company said Hero Xtreme 160 R will start selling the motorcycle in India from March.
In a discussion with international media, Rajat Bhargava, the business head of the company, said that it will start selling the Hero Xtreme 160 R motorcycle in the international market.
Hero Xtreme 160 R Specs
As for Hero Xtreme 160 R specs, this motorcycle has a 166 cc air-cooled, FI engine. The engine will provide 15 bhp of power at 8500 rpm and 14 Nm of torque at 6500 rpm. This new Hero motorcycle will find a speed of 0 to 60 kmph in just 4.7 seconds.
The motorcycle is expected to go public at the Nada Auto Show 2020 in Bhadra in the Nepalese market. Stay Tuned for Hero Xtreme 160 R price in Nepal
Also read: TOP SCOOTERS IN NEPAL 2020 | 125 CC | PRICE
TRAFFIC POLICE INSTRUCTED TO FILE CASES AGAINST THE DRIVERS WHO DON'T FOLLOW THE ODD-EVEN RULE
EMBOSSED NUMBER PLATE REGISTRATION PROCEDURE IN NEPAL
Jawa 42
Jawa brand is in the process of coming to Nepal after Mahindra bought the property and started production in the Indian market. Currently, in the Indian market, Jawa is selling motorcycles in two models. Jawa 42 and Jawa Perak are the models that will arrive in Nepal.
Jawa motorcycle is one of the upcoming bikes in Nepal and is expected to enter the Nepalese market within the year 2020.
Jawa 42 Specs
As for Jawa 42, this bike has a 293 cc with four valves Liquid Cooled FI engine. This engine generates 27 BH of power and 28 Nm of torque. It has a 6-speed gearbox attached.
Jawa 42 Price in Nepal
The motorcycle, which is being sold in the Indian market for Rs. 1 lakh 56 thousand. Jawa 42 with single ABS NPR 6,20,000 whereas Jawa 42 with dual ABS NPR 6,48,000.
Jawa Price in Nepal
Jawa forty-two is priced at NPR 6,20,000 and NPR 6,48,000 for Single Channel and Dual Channel ABS variants respectively. Jawa forty-two will be available in six color variants: Lumos Lime, Halley's Teal, Galactic Green, Starlight Blue, Comet Red, and Nebula Blue.
The Jawa is priced at NPR 6,48,500 for Single Channel ABS while its Dual Channel ABS variant priced at NPR 676,500, available in Nepal in three colors: Jawa Black, Jawa Maroon, and Jawa Grey.
Also Read: TOP FIVE BIKES IN 150CC SEGMENT IN NEPAL WITH PRICE AND SPECS
Yamaha XSR 155
As the official distributor of Yamaha's Nepal distributor, Morang AutoWorks has started bringing in new models produced in the country besides India, Yamaha XSR 155 is on the list of potential upcoming bikes in Nepal to be brought in 2020. A motorcycle based on the platform of the WZF-RVV has been under discussion in the Thai market.
Yamaha XSR 155 Specs
The Yamaha XSR 155 has a chassis, inverted telescopic front fork, rear mono-shock, engine and some components from its popular motorcycle 'MT 15'.
It has a round LED headlamp and dual-tone fuel tank. A bike with a 155 cc single-cylinder liquid-cooled engine connects to generate 19 bhp of power and 14.7 Nm of torque. The bike has a 6-speed manual gearbox.
Dual-channel ABS, alloy wheels, digital instrument cluster, LED headlamps and slipper clutch make the bike a premium. It is estimated to be made public within 2020 in Nepal.
Yamaha XSR 155 price in Nepal
Yamaha XSR 155 price in Nepal can be estimated at 5 lakh.
Also Read: YAMAHA FZ-S V3: Review
Also Read:
TOP 5 PICKUP TRUCKS IN NEPAL | SPECIFICATIONS AND PRICE IN NEPAL
NEW UPCOMING ELECTRIC CARS IN NEPAL 2020 | PRICE, SPECS
2020-21 BUDGET IMPACT: ELECTRIC VEHICLES TO BE MORE COSTLY IN NEPAL
CF MOTO NK 250 2020 MODELS IN NEPAL
FORD BOOKING OPEN FOR 2020 MODELS
Compiled by :
Debashish S Neupane