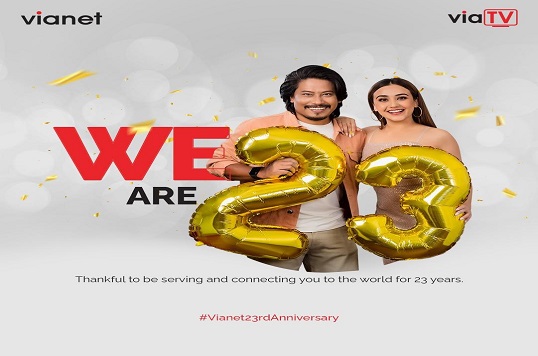 Vianet Communications completes 23 years of operation
16th October 2022
"Vianet Communications plans to continue on its operation of providing the best digital services to all its customers"
Vianet Communications, one of the largest internet and TV service providers in Nepal, has accomplished 23 years of its manoeuvre.
On the occasion of its 23rd anniversary, the company expressed its gratitude thanking all its employees, customers, and other stakeholders for making this journey such a wonderful journey.
The company intends to continue on a mission of stirring the lives of its customers through the best possible digital services.
The company has always persisted as reliable and affordable Broadband internet and TV services.
In 2011, Vianet pioneered Fibre Optics technology commonly known as FTTH for the first time and catapulted the nation toward a high-speed network.
It was the first internet service provider in Nepal to deliver dedicated speeds without any sharing ratio.
In 2016 Vianet also befitted as one of the first companies to introduce IPTV services, changing the TV viewing experiences of Nepali customers for the better.
The company has been continuously upgrading its services to reach out to more customers with quality services.
Vianet's Ultra-Fi lineups of the internet are some of the most reliable and affordable internet services, enriching the lives of millions of customers.
Also Read:
Samsung Galaxy A04s with 50MP Camera officially launched in Nepal
LG Smart TV Price List 2022 in Nepal | Reviews
Hyundai IONIQ 6 Launched with 610 km on a Single Charge
Microwave Ovens Price in Nepal | 2022
Compiled by : Utsaav