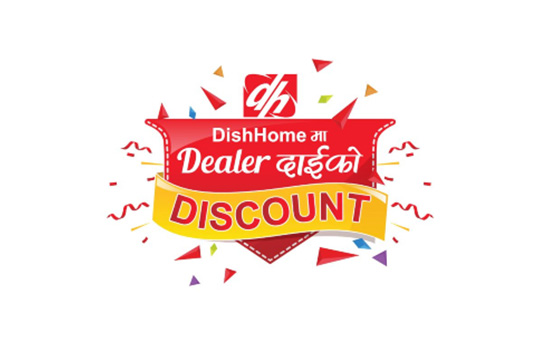 DishHome Lucky Draw Winners Announced- Prize Money 1 Lakh
18th February 2020
"DishHome has introduced an offer "DishHome ma Dealer Dai ko Discount" with the sole motive to give more facilities to their customers."
DishHome's "DishHome ma Dealer Dai ko Discount" that started from 27th Magh 2076 to 1st Falgun in which the customers who annually subscribe through Fund Transfer were enrolled in the Live Dishhome Lucky Draw has been commenced. The first Live Dishhome Lucky Draw was telecasted on 2nd Falgun, 5 PM on DishHome's Showcase Channel No 100. The winners of the first Live Dishhome Lucky Draw are:
Sudip Marasini, Kawashoti, Nawalparasi (CAS ID No. 02519107484)

Binita Gurung, Pokhara, Kaski (CAS ID No. 02519110650)
Each lucky winner of this Dishhome Lucky Draw gets 100,000 NRS cash prize.
The next Live Dishhome Lucky Draw shall be held on 9th Falgun 2076, Friday on the same channel and same time. Anyone annually recharging through the Fund Transfer from 2nd Falgun, Friday to 8th Falgun, Thursday will be enrolled into that Live Lucky Draw.
For further information, contact any DishHome Dealer throughout the country.
Also Read: DISHHOME DEALER DAI KO DISCOUNT OFFER - THE WEEKLY LUCKY DRAW
Also Read: DISHHOME TO LAUNCH ITS NEW AND EXCLUSIVE TV CHANNEL 'RHYMES'
Also Read: DISHHOME'S: EXCLUSIVE CHANNELS
Also Read: DISHHOME SUBSCRIBERS CAN AVAIL CREDIT SERVICE UP TO 5 DAYS
Compiled by :
Debashish S Neupane