Ford Mustang Mach-E hits the road | Specifications
19th November 2019
"For the first time in 55 years, Ford is expanding the Mustang lineup with the all-electricMustang Mach-E SUV joining the sports coupe, convertible and special editions, featuring an all-new infotainment system and connected vehicle technology"
For the first time in 55 years, Ford is expanding the Mustang family, bringing the famous pony into the electric age with Mustang Mach-E, an all-new, all-electric SUV born of the same all-American ideals that inspired the best-selling sports coupe in the world.
Ever since the original Mustang took the world by storm in 1964, it quickly came to represent the best of the American spirit: Freedom, progress, fast performance and a touch of rebellion. Now, Mustang is ready to reimagine these ideas for a powerful electric future, with space for customers' growing needs and advanced over-the-air updates that continue to improve the vehicle.
"At the first-ever Detroit auto show, Henry Ford said he was working on something that would strike like forked lightning," said Bill Ford, executive chairman, Ford Motor Company. "That was the Model T. Today, the Ford Motor Company is proud to unveil a car that strikes like forked lightning all over again. The all-new, all-electric Mustang Mach-E. It's fast. It's fun. It's freedom. For a new generation of Mustang owners."
Developed in a century-old brick building a few blocks away from Henry Ford's first factory in Detroit, Ford brought the Mustang Mach-E to life through a development process concentrated entirely on customer needs and desires. The result is a sleek, beautiful SUV that delivers spirited ride and handling, with state-of-the-art connected vehicle technology that makes Mach-E even better over time.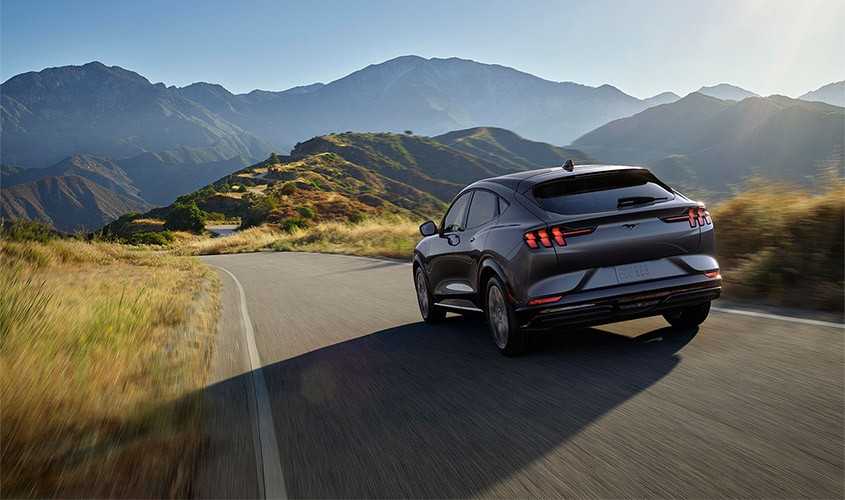 Ford Mustang Mach-E specs
When it arrives in late 2020, Mustang Mach-E will be available with standard and extended-range battery options with either rear-wheel drive or all-wheel drive powered by permanent magnet motors. Equipped with an extended-range battery and rear-wheel drive, Mach-E has a targeted EPA-estimated range of at least 300 miles. In extended-range all-wheel-drive configurations, Mach-E is targeting 332 horsepower and 417 lb.-ft. of torque – with the standard all-wheel-drive variation targeting quicker times to 60 mph than the base Porsche Macan series.
Ford also will offer two special performance versions. The GT is targeting 0-60 mph in under 4 seconds, making it faster off the line than a Porsche Macan Turbo. The GT Performance Edition, meanwhile, is targeting a comparable 0-60 mph in the mid-3-second range to a Porsche 911 GTS. Both GT configurations are targeting an estimated 342 kW (459 horsepower) and 830 Nm (612 lb.- ft.) of torque.
"The Mustang Mach-E wholeheartedly rejects the notion that electric vehicles are only good at reducing gas consumption," said Hau Thai-Tang, Ford's chief product development and purchasing officer. "People want a car that's thrilling to drive, that looks gorgeous and that can easily adapt to their lifestyle – and the Mustang Mach-E delivers all of this in unmatched style."
To truly take advantage of the extra space provided by electrification, Ford designers worked extensively with customers to understand how they would prefer to use the interior of their vehicles. Designed with SUV-size proportions to seat five adults comfortably, the Mach-E leaves plenty of space for friends, kids, and cargo.
In addition to the exterior front trunk, the rear trunk offers 29 cubic feet of space. With the rear seats down, the Mach-E boasts 59.6 cubic feet of space – more than enough room for luggage, camping gear or whatever else you may want to move around.
Mustang Mach-E will be available in both standard-range (75.7 kWh lithium-ion battery) and extended-range (98.8 kWh battery), which has a targeted EPA-estimated range of at least 300 miles in the rear-wheel-drive configuration. These advanced batteries feature 288 lithium-ion cells in the standard-range version and 376 lithium-ion cells in the extended-range. Designed for ease of manufacturing, the battery is located on the floor between the vehicle's two axles – and tested at temperatures as extreme as minus 40 degrees Fahrenheit. The batteries are secured inside a waterproof battery case surrounded by crash-absorption protection. They are liquid-cooled to optimize performance in extreme weather and to improve charging times.
Also Read:
ALL ELECTRIC FORD MUSTANG COBRA JET 1400 UNVEILED
FORD MUSTANG EARNS WORLD'S BEST-SELLING SPORTS CAR TITLE
NEW UPCOMING ELECTRIC CARS IN NEPAL 2020
FORD BOOKING OPEN FOR 2020 FORD BS-6 MODELS IN NEPAL
TOP 5 PICKUP TRUCKS IN NEPAL | SPECIFICATIONS AND PRICE IN NEPAL
For more reviews, news, and articles click to reviews.com.np
For instant access to the contents, follow us on our Facebook Page
For videos, subscribe to our Youtube Channel
Compiled by :
Debashish S Neupane