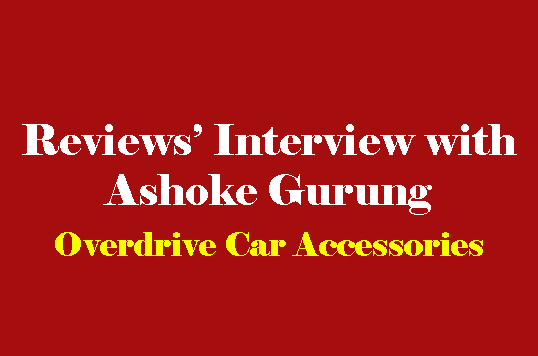 Overdrive Car Accessories and COVID 19
17th June 2020
"What is the post-COVID situation of Car Accessories Business in Nepal?"
COVID-19 and it's consequence of Lockdown has been a curse to many of the businesses. Our Team took interviews with various people belonging to all small, medium, and large businesses. Some people say that their business has been adversely affected, while some state that it is in loss, however, they would revive from it soon.
Interview with Ashoke Gurung, Overdrive Car Accessories
(Gurung is one of the car accessories businessmen who have been in this business for more than 18 years. He has a shop named Overdrive Car Accessories in Kuleshwor, Kathmandu)
What is the post-COVID situation of Car Accessories Business in Nepal?
It has been 18 years since I am in this field. It was smooth and okay-ish until the COVID-19 and nationwide Lockdown hit the market hard. Now at this point of time, people are concerned about their health and survival more than any other thing. Car and car accessories are a luxury for the people residing in a country like Nepal. This lockdown, people are more into buying necessary items like rice, vegetables, and lentils and car accessories simply don't fall in that category. Plus, the lockdown has forced us to get locked up in our homes and we can't come to our shops and make even a handful of dealings. Thus, for small businesses like us, it is really difficult at this point of time.
How are you planning to run the business after the lockdown is over and what are the safety protocols?
We are planning to run the business by properly sanitizing our shop and all the equipment in the shop. We will maintain social distancing and ask all the employees to properly maintain the safety protocols by using masks, sanitizers, and wash hands before and after stepping outside the shop. We will do every possible step towards helping the nation not spread the CoronaVirus.
Stay tuned for more interviews.
Also Read:
5 BIKE CARE AND MAINTENANCE TIPS TO KEEP YOUR BIKE FOREVER NEW
2020-21 BUDGET IMPACT: ELECTRIC VEHICLES TO BE MORE COSTLY IN NEPAL
NEW 2020 HYUNDAI VERNA FACELIFT AFTER LOCKDOWN
NEW UPCOMING ELECTRIC CARS IN NEPAL 2020 | PRICE, SPECS
Compiled by :
Debashish S Neupane