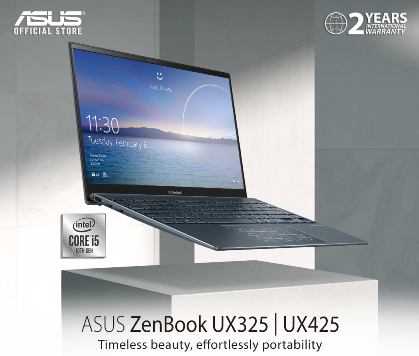 ASUS Zenbook 13 and Zenbook 14 launched in Nepal with its Thin and Compact Body
3rd October 2020
"Asus Nepal launched Zenbook UX425JA and UX325JA in Nepal."
ASUS has launched the thin, light-weight, and compact laptops of the Zenbook series i.e. Zenbook 13 and Zenbook 14 in Nepal. With its compact body, you can easily carry it around with you. They have ASUS NumberPad 2.0 for better typing experience and IR cameras for fast face-recognition. Both the Zenbook 13 and 14 are best for your on-the-go lifestyle.
Zenbook 14
Asus boasts the Zenbook 14 UX425JA to be a take-anywhere masterpiece as well as the world's smallest 14-inch laptop. The compact and light-weight body along with its 4 sided nano edge display is appreciable. Its slim bezels create a 90% screen-to-body ratio for a more immersive viewing experience. Despite its thin body, it has HDMI, thunderbolt 3 USB-C, USB Type-A, and microSD card reader. ASUS also claims the Zenbook 14 to have a 22 hours battery life and with its fast charge support, the laptop can charge up to 60% in just 49 mins.
Specifications:
Model- ASUS ZenBook 14 UX425JA

Display- 14 inches FHD; 1920 x 1080; anti-glare screen

Weight- 1.11kg

OS- Windows 10

Processor- Intel Core i5 1035G1 Processor

Memory- 8GB

Storage- 512 GB

Battery- 67 Wh Polymer Battery; up to 22 hrs battery life
Price in Nepal- Rs 127,777
Zenbook 13
The Zenbook 13 UX325JA is alike the ZenBook 14 UX425JA with its slim and compact body that is best for the on-the-go lifestyle. Most of the features of this model are the same as the above Zenbook 14 along with its battery and its fast charge support. As for the display, the Zenbook 13 has a 13.3 inches display with slim bezels that create an 88% screen-to-body ratio. The low 1-watt power display with 450 nits brightness helps to maximize the user experience without using the maximum battery. The connectivities are also the same as the Zenbook 14.
Specifications:
Model- ASUS ZenBook 13 UX325JA

Display- 13.3 inches FHD;1920 x 1080; anti-glare screen

Weight- 1.11 kg

OS- Windows 10

Processor- Intel Core i5 1035G1

Memory- 8GB

Storage- 512 GB

Battery- 67 Wh Polymer Battery; up to 22 hours of battery life
Price in Nepal- Rs 132,222
Also Read:
TOP 5 MOISTURIZERS FOR OILY SKIN IN NEPAL | REVIEWS NEPAL
DELL ANNOUNCES NEW XPS 13 AND XPS 13 2-IN-1 WITH TIGER LAKE PROCESSORS
THINGS TO CONSIDER WHILE BUYING A GEYSER AND WATER HEATER
REALME 7- PRICE, SPECS AND AVAILABILITY | REVIEWS NEPAL
MAKEUP ORGANIZERS STORAGE AND ORGANIZATION IDEAS | REVIEWS NEPAL
Compiled by :

Prativa Parajuli