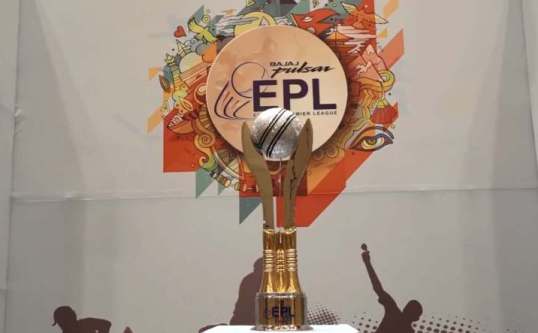 Bajaj Pulsar to sponsor Everest Premier League
9th August 2021
"EPL has secured Bajaj Pulsar as its title sponsor for T20 cricket league."
Everest Premier League (EPL) has secured Bajaj Pulsar as its title sponsor for EPL T20 cricket leauge, which is scheduled to begin from September 25 at the Tribhuvan University International Cricket Ground.
Bajaj Pulsar has always promoted sports in Nepal and aims to continue the work. "Bajaj Pulsar has always been love of Nepali youth, in recent years Cricket has also become the passion of Nepali youth. Hence, we have decided to be the title sponsor of Nepal's biggest Cricket league EPL. We have always promoted sports in Nepal, have been sponsoring sports awards for years. This association will definitely help create more quality players from across the country, hopefully, they will be new finds for National team too. Bajaj Pulsar is and remains committed to the development of sports in Nepal" said Shekhar Golchha, Chairman of Golchha Group.
Similarly, Amir Akhtar, Managing Director of EPL wished success and joy to all stakeholders of the upcoming competition.
The fourth version of the tournament is expected to last for 14 days and comprises six teams owned by some of Nepal's powerful industrialists. Biratnagar Warriors, Kathmandu Kings XI, Pokhara Rhinos, Lalitpur Patriots, Chitwan Tigers and Bhairahawa Gladiators will be competing for the league trophy.
There are also some players who have earned quite a name for themselves and will be taking part in the competition. Some of the star players to watch out for in the Bajaj Pulsar EPL 2021 are Shahid Afridi (Pakistan), Shoaib Malik (Pakistan) and Carlos Braithwaite (West Indies), among many others.
The competition is said to be beneficial for cricket in Nepal as young players will also get a chance to play and compete alongside international talents.
Also read:
MAHINDRA SUVS GET NEW TWIN PEAKS LOGO, AHEAD OF XUV700 LAUNCH
NYEF KATHMANDU CHAPTER TO AWARD 3 STARTUPS
VIVO V21E LAUNCHED IN NEPAL: FEATURES, PRICE AND SPECS
CHANGAN AUTO | CHINA'S NO:1 PASSENGER VEHICLE BRAND TO ENTER NEPAL
VG AUTO LAUNCHED SUZUKI ACCESS 125 BS 6 WITH FI IN NEPAL
Compiled by : Team Reviews