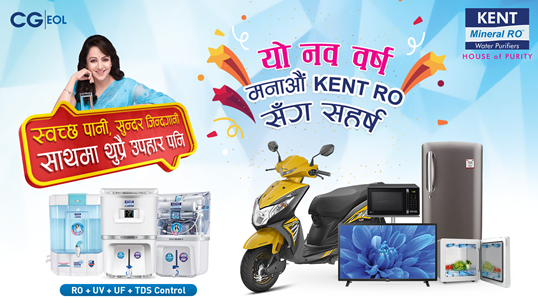 Kent RO brings its New Year 2078 Consumer Scheme
21st April 2021
"In the bumper lucky draw, you get a chance to win Honda Dio DLX Scooter."
EOL Pvt Ltd, Nepal's only official distributor for Kent products, under the umbrella of CG Electronics has introduced a special consumer scheme on the occasion of the new year 2077.
The water purifying products by Kent R. O., which are highly adored by Nepali and Indian consumers, has brought this scheme titled "Let's celebrate this New Year with Kent R.O. with utmost happiness".
In this special consumer scheme, with the purchase of any Kent product you can participate in a lucky draw and win
one LG Convection microwave oven, one LG refrigerator, one LG LED TV, and three Godrej Viroshield, every month.
In the bumper lucky draw, you get a chance to win Honda Dio DLX Scooter.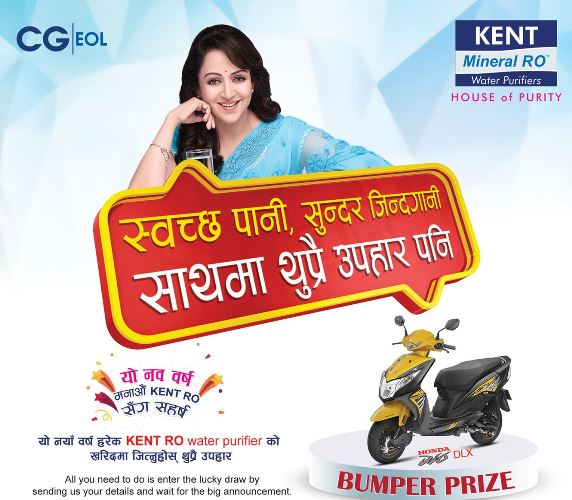 Anyone who buys any Kent products after the 8th of Chaitra (March 21) is eligible to participate in the monthly draw and bumper lucky draw.
To take part in the lucky draws you must send an SMS to 37001 with the text "Kent RO [space] Your name [space] Address [space] Date of purchase [space] Product model name [space] Serial number.
This scheme is available for only a limited period all over Nepal starting from Chaitra 8 2077.
Clean drinking water has become a necessity today.
Every year millions of Nepalese are infected with waterborne diseases and thousands lose their lives.
The water you drink can contain high TDS, bacteria, viruses, pesticides, and other harmful chemicals.
Also, water supplied to homes comes through rust and old pipelines and is basically stored in unhealthy tanks.
It is very important to make sure that the water is pre before drinking.
Therefore, water treated with KENT RO has become a requirement for the healthy life and well-being of our family.
Kent's products are well-known for health and hygiene.
Apart from water purifiers, Kent has Air purifiers, vacuum cleaners, disinfectants, and smart kitchen appliances available in the market.
Compiled by :
Raj Kapali