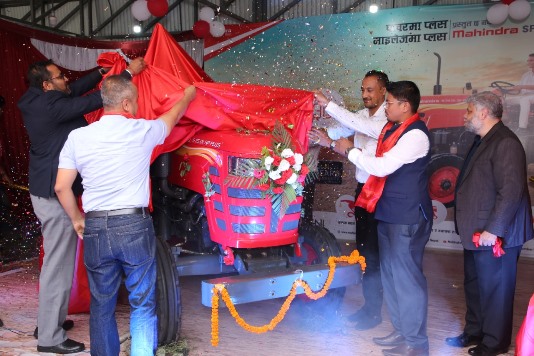 Mahindra launches new Powerful & Fuel-efficient SP Plus tractor series
24th May 2022
"Introduces the powerful and fuel-efficient tractor series in the 30HP to 50HP category, powered by the advanced ELS (Extra Long Stroke) DI engine."
Mahindra's Farm Equipment Sector (FES), part of the Mahindra Group, launched its all-new 'SP Plus' tractor series in Nepal.
Powered by Mahindra's advanced ELS engine and productivity enhancing features like dual clutch with reverse PTO, high lift capacity hydraulics, easy gear shift transmission & oil Immersed brakes.
The tractor aims to enhance the productivity of farmers in the agriculture and haulage applications.
New Mahindra SP Plus tractors were reveled in Birtamode, Biratnagar & Janakpur on May 21, 22 and 23 respectively. In the launch Program, representatives from Mahindra & Mahindra Ltd. ( India) Agni Groups, Local Dealer, Local Udhyog Banijya Sangh and Media persons were present in the program.
Soon the New SP Plus Series Tractor will also be Launched in Birgunj, Chitwan and Nepalgunj by this week.
Prakash Wakankar, Chief of International Operations, Farm Equipment Sector, Mahindra & Mahindra Ltd. stated "With changing times, farmers are evolving and are seeking higher levels of empowerment when it comes to enhancing farm productivity. We are extremely delighted to launch the all-new SP Plus series with enhanced styling in Nepal. This powerful, fuel-efficient series will enable farmers maximize their earning potential, making it a no-compromise tractor. With this, we are confident to further strengthen our position in the market"
Speaking at the launch, Cabinet Shrestha, Managing Director, Agni Group stated "We are proud to present the new SP Plus series of tractors which enables the farmers to do more and elevate their farm productivity to the next level. These new tractors are sure to make a difference in the way farming is done in the country. The series also comes with industry leading 6-year warranty, guaranteeing complete peace of mind. It is also a moment of pride for Agni Group as we complete 30 years of our association with Mahindra & our commitment to our customers, which is in a way, an added responsibility to ensure that the farmers get nothing less than the best in the category."
Also Read:
Lvneng E-Scooter in Nepal |Price and Specifications|
Nissan unveils all-new Sakura electric minivehicle
Hyundai India stopped production of the Santro
Super Soco TC Wanderer bookings are now open in Nepal
Hero E-Scooters in Nepal |Price & Specification|
Yatri E-Bikes in Nepal |Price & Specifications|
Miku E-Bikes In Nepal |Price & Specifications|
Compiled by : Team Reviews