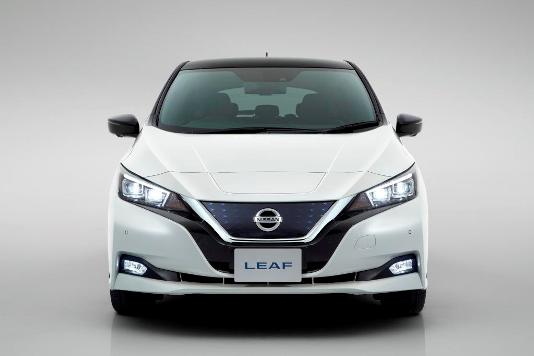 Nissan launches the zero-emission Nissan LEAF EV in Nepal at NPR 62.99 Lakhs
24th March 2022
"Nissan launches the zero-emission Nissan LEAF EV at NPR 62.99 Lakhs as an introductory price in Nepal."
Nissan launches the LEAF electric vehicle (EV) in Nepal. The zero-emission Nissan LEAF EV is the embodiment of Nissan Intelligent Mobility, the automotive company's approach to changing the way cars are driven, powered and integrated into society.
From the pioneering first version in 2010 to the LEAF e+ introduced in 2019, the 500,000 customers who have chosen the LEAF have helped drivers around the world realize the benefits of electric vehicles, both in terms of sustainability and in their daily lives.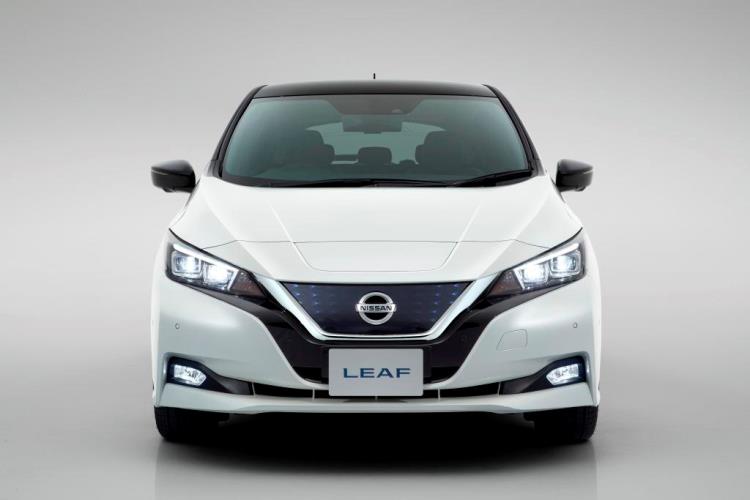 "Marking a new chapter for Nissan in the electrified vehicle segment, Nissan has launched the 2nd generation Nissan LEAF electric vehicle in Nepal. It is the perfect embodiment of Nissan Intelligent Mobility, giving customers a personal mobility experience that is smarter, safer, cleaner, and more enjoyable. Towards our commitment to a more sustainable future, we will also continue to enhance our customer's lifestyle choices and help them live more confident, exciting, and connected life" says Sinan Ozkok, President Nissan India Operations.
"Bringing the Nissan LEAF EV to Nepal is a high point in our efforts to inform and educate our customers on the benefits of EV adoption. For the world and for us, the future is in electrified vehicles. With the Nissan LEAF, not only are we delivering the RIGHT technology with the best performance and zero emission. We're providing confidence through intelligent driving as drivers will feel more confident, excited and connected. We are optimistic that the Nissan LEAF EV will help our customers to live a smarter, safer, and sustainable life," says Sandeep Kumar Sharda, Managing Director, Pioneer Moto Corp Pvt. Ltd - sole distributor of Nissan and Datsun in Nepal.
The Nissan LEAF EV exemplifies this philosophy in three key aspects: Intelligent Power, Intelligent Driving, and Intelligent Integration.
Power
As an embodiment of Nissan Intelligent Mobility, the Nissan LEAF represents innovations in the areas of power delivery. The Nissan LEAF has a 40-kWh lithium-ion battery that has a range of up to 311 kilometers on a full charge, based on the New European Driving Cycle (NEDC) standards. Powering the Nissan LEAF is a revolutionary, all-electric e-powertrain providing a maximum output of 110kW or 150ps and 320 Nm of instant torque. The Nissan LEAF can go from zero to 100 km/h in 7.9 seconds while reaching a top speed of 140 km/h.
Charging the Nissan LEAF is easy and convenient as owners are provided with multiple charging options. The Nissan LEAF can be fully powered up in 15 to 18 hours at home through a dedicated wall outlet with the supplied universal charging cable. Owners can also go to quick charging stations found in select Nissan dealerships nationwide and power up their Nissan LEAF to a full charge in as fast as 40 to 60 minutes.
Driving
A welcome innovation for drivers everywhere is the Nissan LEAF's e-Pedal. This feature allows drivers to start, accelerate, decelerate, and stop using just one pedal by increasing or decreasing the pressure applied to the accelerator. When the accelerator is fully released, regenerative and friction brakes are applied automatically, bringing the car to a complete stop. This makes the Nissan LEAF ideal for stop-and-go city traffic since the need to shift from one pedal to another is reduced, making driving simpler and more convenient.
The Nissan LEAF is also packed with intelligent driving assistance features that give drivers more confidence and peace of mind. These features include Intelligent Cruise Control, Intelligent Around View Monitor, High Beam Assist, and Hill Start Assist. It also features Intelligent Emergency Braking, Intelligent Driver Alertness, Rear Cross Traffic Alert, Blind Spot Warning, Lane Departure Warning, Intelligent Lane Intervention, and Intelligent Trace Control to help ensure the safety of both the driver and passengers.
Both contemporary and timeless, the Nissan LEAF has a sleek design starting with the two-tone body and its iconic floating roof. The Nissan LEAF comes in 11 colour options where the customers can choose between six single-tone colour options or five dual-tone colour options. The EV Blue accents and V-Motion grille complement the entire look. Inside, the Nissan LEAF greets both drivers and passengers with spacious seating for five.
Intelligent Integration
Nissan LEAF also has vehicle-to-everything (V2X) technology that enables bi-directional charging to use energy from the LEAF battery to power homes and equipment, or simply give back energy to the power grid.
The Nissan LEAF comes with a 3-year vehicle warranty or for the first 100,000 kilometers (whichever comes first) and also with an 8-year battery warranty or for the first 160,000 kilometers (whichever comes first).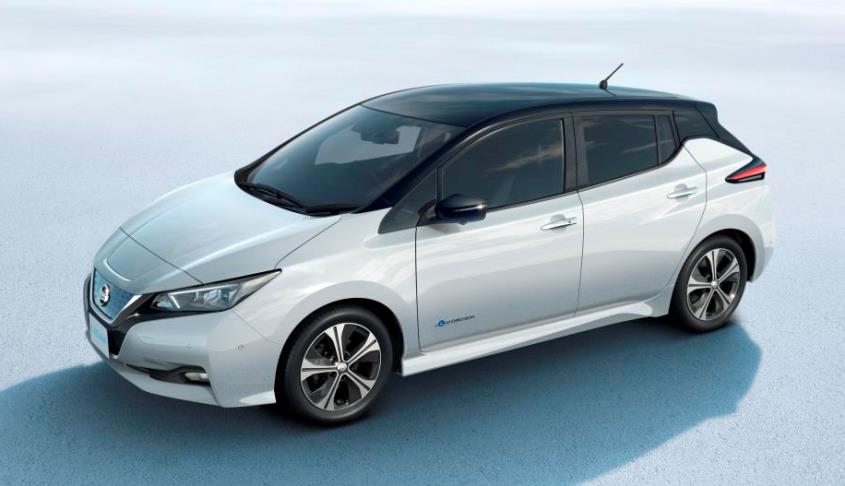 Key Features:
Power & Charging:
• 40 kWH Battery with 311km range based on NEDC
• e-Powertrain for instant torque and acceleration
o 110kW or 150ps maximum power output
o 320 Nm of instant torque
o 0 to 100 kph in 7.9 seconds
• Varied Charging Options (from low battery status)
o Wall box charger: approximately 7.5 hours

Intelligent Driving:
• e-Pedal
• ABS, VDC, Brake Assist
• Active Anti-Roll System with Intelligent Trace Control
• Intelligent Key and Push Start/Stop Button
• Nissan Unique e-Shifter (drive mode selector)
• A TFT Meter Display with Advanced Drive-Assist Display and EV info
Sleek Exterior Design:
• The EV Blue Accent Front Grille
• Styled LED Daytime Running Lights
• 17" Alloy Wheels
• Aerodynamic design
• 2-tone body color with an iconic floating roof
• Rear Fog Lamp
• Rear Diffuser
• Continuous Flat Underbody
The Nissan LEAF has won accolades around the world including World Car of the Year 2011, Car of the Year 2011 in Europe, and Car of the Year Japan in 2011 and 2012. More importantly, the car has earned the trust of hundreds of thousands of customers. The 500,000th LEAF found its happy owner, Maria Jansen, in Norway.
Nissan leaf Price and availability in Nepal
Nissan LEAF EV prices at NPR 62.99 Lakhs as introductory offers, Bookings commence on 7th July 2021.
Also Read:
YADEA LAUNCHES PREMIUM ELECTRIC SCOOTERS IN NEPAL
Compiled by : Team Reviews