Huawei Y7p Review-Your Next Budget Phone? Full Review
20th March 2020
"The device is equipped with a 6.39 inch "Punch FullView Display" with an aspect ratio of 19.5:9 and HD+ resolution of 1560×720. Despite the limiting resolution, color reproduction is quite satisfying, and the details appear somewhat sharp as well."
Reviews
Huawei, hustling to be one of the biggest brands, has launched Huawei Y7P in Nepal. The Huawei Y series is designed to bring technological innovations at a lower price. The Huawei Y7p launches with a lower price tag while featuring the same Kirin 710F chipset as the Huawei Y9s and sporting a nearly bezel-less design that adopts the punch-hole solution of the Huawei Nova 5T.
Huawei Y7P Design
The build of the device does give it a slight premium feel. Upon first glance and touch, the Huawei Y7p seems to be made of glass, but actually, it's a polycarbonate material. The device is on the lighter side as it weighs just 176 grams. The front has got a left centered hole-punch display. The mid-frame seamlessly connects the two sides, producing a streamlined, unibody look that is both aesthetically pleasing and makes for a comfortable grip. The device has a reflective layer when it catches the light on right angles gives the futuristic glare effect.
Huawei Y7p comes in Midnight Black and Aurora Blue colors, both of them create a holographic effect on the rear. The back also houses the fingerprint sensor which is ergonomically placed along with triple camera setup on the left side. The Huawei Y7p has two slots for SIM cards and a separate micro SD card slot on the left side of the device. Huawei Y7p also has a headphone jack 3.5mm audio jack, a micro USB port and downward-facing speaker grills. The volume and power button is on the right side which is quite clicky.

Also Read: HUAWEI MATE 30 PRO LAUNCHED IN NEPAL | SPECS, FEATURES, PRICE
Huawei Y7P Display and Multimedia
The device is equipped with a 6.39 inch "Punch FullView Display" with an aspect ratio of 19.5:9 and HD+ resolution of 1560×720. Despite the limiting resolution, color reproduction is quite satisfying, and the details appear somewhat sharp as well. The Huawei Y7p features thin bezels on all three sides except the bottom which features a noticeable chin, this gives a 90% screen to body ratio to the device. A perfect Punch FullView Display comes with a perfect Punch hole. Otherwise, its appearance would be affected. To end that, Huawei has been working with smartphone camera providers to produce one of the smallest front cameras in the industry.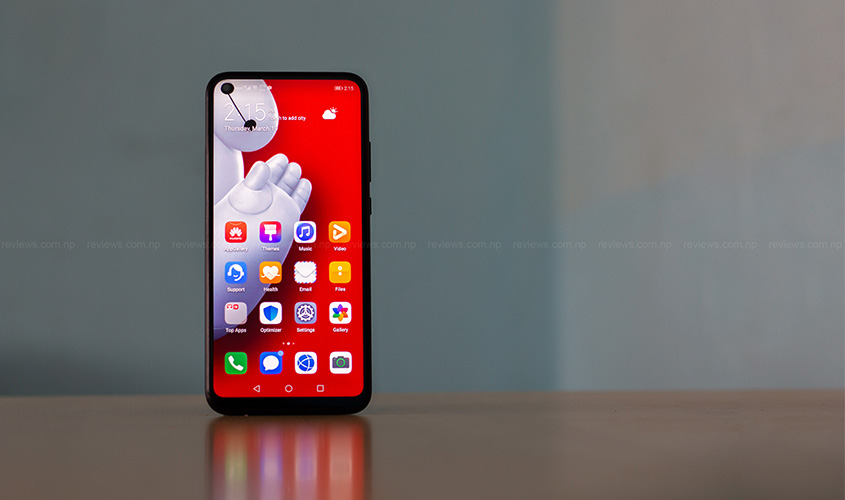 At the same time, Huawei applied blind hole solution. That includes a smaller hole, making the Punch FullView Display look nicer. To perfectly install the front camera, Huawei used advanced CDD vision targeting technology. Now you might wonder why the top left for its front camera? This is based on research which concluded that the left corner is least intrusive to the user while using the device. At last, the display is bright enough to be used under direct sunlight without any problem.
Huawei Y7P Camera
The Huawei Y7p comes with a triple camera setup at the back with a 48 MP main camera with an f/1.8 wide-aperture lens, an 8 MP Super Wide angle camera and a 2 MP depth assist camera. The LED flash resides below the camera housing. Now let's discuss the cameras in detail. The ultra-wide camera with 120-degree field of view provides 53% wider angle than the conventional 78-degree wide-angle camera. This camera can be used for both photos and videos. The depth assist camera helps in simulating realistic shallow depth of field effects that results in breathtaking portraits.
The Huawei Y7p camera is also capable to shoot slow-mo videos at 480fps which look incredible.Huawei has also improved its night mode using advanced AI algorithms and it supports stabilization for handheld shots. The rear triple camera system also supports AI scene recognition, which can recognize over 500 scenes across 21 categories including blue sky, food, plant, sunset and many more.
Each scene is calibrated individually, enabling everyday users to shoot like a pro. Both the front and rear camera support HDR mode. It is automatically activated when a high lighting ratio scene is detected. In this mode, the device takes 3 photos in quick succession and combines them into 1 to achieve a higher dynamic range.
The 8 MP Selfie camera also supports AI portrait mode which can enhance the subject's face while also preserving the details. Overall the camera experience was good and it gives strong competition to other devices in this price range.
Also Read: OPPO A31 2020 LAUNCHED WITH TRIPLE REAR CAMERA
Huawei Y7P Software,UI, and Apps
Out of the box, the device runs on EMUI version 9.1.1 based on top of Android version 9. Huawei Y7p runs Huawei Mobile Services (HMS) instead of typical Google Mobile Services(GMS) and it comes with a host of apps, including Huawei AppGallery, which is pretty much the Huawei version of the Google Play Store.
As there's no GMS, apps like YouTube, Facebook, Google Drive Office Suite, and the like are not pre-installed in the device. Huawei Y7P features Face Unlock 2.0, which lets us unlock the device in about 0.4 seconds. It also features eye detection that adds extra security. The Eye Comfort mode which reduces blue light emission and also provides automatic brightness adjustment.
Huawei Y7P Performance
Inside, the Huawei Y7p packs a 12nm HiSilicon Kirin 710F chipset coupled with Mali-G51 graphics, 4GB RAM, and 64GB of built-in storage. We tested games like Asphalt 9, Call of Duty mobile, PUBG Mobile and it ran smoothly without any lag or stutter. And opening day-to-day apps was an easy task for the device. It kept most of the apps in memory during our testing.
Huawei Y7P Battery and Connectivity
The device packs a large 4000 mAh battery which easily lasted a whole day on a single charge during our testing. The charger supplied in the box delivers 10 watts at max. Huawei Y7p charges via micro USB port but lacks any fast charging capabilities.
Huawei Y7p takes about 2 hours to charge fully. The usual connectivity features such as 4G LTE, WiFi, and Bluetooth are all present in the Y7p. It has dual SIM slots and a dedicated micro SD card slot; you can use two SIM cards and need not sacrifice any of them for a micro SD card.
Huawei Y7P Price in Nepal
The HUAWEI Y7p price in Nepal starts at NRP 23990 (4GB RAM + 64GB storage).
Conclusion
The Huawei Y7p is a pretty decent smartphone that sits right between the entry-level and the mid-range segment. For its price tag of NRP 23990 (4GB RAM + 64GB storage), you get a visually-pleasing smartphone, triple-rear cameras that produce good images, a sufficient battery life, and a reasonably competent performance.
Click here to Compare Huawei Y7P with any other phones
You may also like:
XIAOMI REDMI NOTE 8 AND NOTE 8 PRO PRICE IN NEPAL | FULL SPECIFICATIONS
SAMSUNG GALAXY A71 LAUNCH, SPECS, PRICE, FEATURES
LAVA BENCO V7 LAUNCHED IN NEPAL | PRICE AND SPECS
SAMSUNG GALAXY Z FLIP LAUNCHED - PRICE, SPECS
Compiled by : Web House Nepal