Best budget earbuds under Rs. 6000 in Nepal | 2022
5th May 2022
"Want to buy some budget earbuds in Nepal? Let's check out the best option."
Earbuds are the new trend in today's world; however, this new trend might have hit the wallets of several people pretty hard. A good quality earpods mostly cost above Rs. 20,000 in Nepal. However, as different brands started developing earbuds, people could enjoy a good earbud with a noise-cancellation feature, though not good as the premium ones, at a cheaper price. The Budget Earbuds in the Nepalese market under Rs. 6000 are listed below.
Redmi AirDots
Redmi AirDots is the cheapest earbuds from Xiaomi. Despite its low-price, Xiaomi doesn't seem to have compromised in the quality as Redmi AirDots provides you clear and rich sound and effects. This in-ear earbud weighs just about 4.1 gram per earbud; so, one can say that it won't fall off your ears that often. It's not the best but at the offered price, it's the best amongst the best. Also, you can buy Redmi AirDots Pro with few better features at a slightly higher price.
Specifications:
Noise-canceling, sweatproof

In-ear wearing

Impedance- 16Ohm

Music time- 3hr

Sensitivity- 93dB ± 3dB

Standby time- 60h

Connectivity- Bluetooth 5.0

Battery- 40mAh (each bud), 300 mAh (chargig case)

Compatible with: iPhone, iPod, Android phones
Price: Rs. 2,500



Accurate TWS HX 03
Accurate TWS HX 03, though doesn't have that attractive looks, has similar specs like the Redmi AirDots. However, for the additional price, you surely will get some additional features. Quality-wise, it is quite praiseworthy as it offers loud sound with decent bass. And, its battery of 40 mAh can last up to 4 hours on a single charge.
Specifications:
13 mm audio driver

Connectivity- Bluetooth 5.0

Battery- 40 mAh each bud, 400 mAh (charging bin), up to 12 hours of playback

Charging port -Type C charging

Music time- 4.5 hours

Impedance- 16 Ohm

Transmission range- 10m

Output sensitivity- 97db+-3db

Compatible with- Samsung, Huawei, iPhone
Price- Rs. 3,200
Mi Wireless Earbuds
Mi Wireless Earbuds is another budget earbuds from Xiaomi. Though it doesn't have many differences in features, few of them are enough to make Mi Wireless Earbuds better than Redmi AirDots. After adding a few thousand at the price of Redmi AirDots, you can get better earbuds with better sound quality and features. Its silicone tip will make your ears at ease even after wearing it for hours. It is IPX4 rated and has a noise-cancelling feature as well.
Specifications:
Noise-cancellation feature

Weight- 58g

Charging Port- USB Type-C

Connectivity- Bluetooth 4.2

Wireless Range- 10m

Charging Time- 1h

Battery life- 3h (at single charge), 10h (with charging case)
Price- Rs. 4,700
Baseus W01 TWS
Baseus W01 TWS is somehow an underrated brand in Nepal. But, the earbud with such features at the given price should be admired. Baseus W01 TWS has a dual-layer ear tips design for a comfortable fit. While the sound quality and audio effects are fine, the battery of 200mAh of charging cases is low than others in the list. It is best suitable for playing games.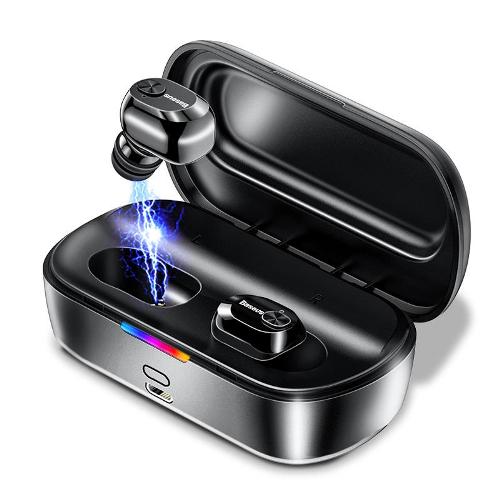 Specifications:
Sweat-proof and water-proof

Compatible with all wireless devices

Connectivity- Bluetooth 5.0

Call time- 6-7h

Battery- 60mAh (each earbud); 200mAh (charging case)

Wireless range- 10m

Charging time- 1.5h (earbuds); 3h (charging case)
Price- Rs. 5,500
Remax TWS 8
Remax is one of the famous brands with good quality audio accessories. The best thing about Remax TWS 8 is its looks that feature a metallic finish. Besides the looks, honestly, another feature of the earbud is quite similar to the other earbuds mentioned here.
Specifications:
6mm sound unit, quality sound

In-ear wearing

Connectivity- Bluetooth v5.0 chip, stable connection

Battery - 400mAh charging bin (4 times charge)

Controls- One button control, answer/hang up cal ls, play/stop

Transmission range- 10m

Output sensitivity- 97db+-3db

Microphone sensitivity- -42db+-3db

Impedance- 16 ohm

Music playing time- 3-4h

Compatible with- iPhone, Samsung, Huawei
Price: Rs. 5,990
Also Read:
TOP 5 EARBUDS IN NEPAL 2020 | REVIEWS NEPAL
ACCURATE TWS AT-01 BUDS REVIEW: BEST WIRELESS EARBUDS UNDER RS 3,500?
XIAOMI NEPAL ADDS REDMI EARBUDS S TO THEIR AUDIO CATEGORY
BEST THRILLER CAR MOVIES OF ALL TIME TO WATCH IN THIS LOCKDOWN
BEST SMART WATCH AVAILABLE IN NEPAL
WHAT ARE BEST GAMING PHONES AVAILABLE IN NEPAL?
5 BEST DIGITAL WALLETS IN NEPAL
TOP BUDGET SMARTPHONES WITH BEST BATTERY LIFE
Compiled by :

Prativa Parajuli