Green Hydrogen Lab : Development of the Green Hydrogen Ecosystem In Nepal - Reviews
4th February 2021
"Green Hydrogen Lab has launched research into different fields that will lead the energy to green hydrogen in Nepal."
We know Nepal is the second richest country in the world in terms of water resources with the capacity to generate 84,000 MW of electricity.
The reality is that to date, even 2% of that power generation capacity has not been exceeded. The country's people and energy producers are concerned that such resources are not being used.


Hydropower projects of more than 20,000 MW are under some level of development. In the last few years, there has been a sudden increase in discussions on the sustainability of Nepal's hydropower sector, as domestic demand falls short of projected production capacity. Production of chemical fertilizer from hydrogen is developing as a potential business for Nepal. Which can contribute to the elimination of hydropower, food security, local employment, trade deficit and many other problems.

Hydrogen is processed from water using a machine called an electrolyzer, which divides water into its components, hydrogen and oxygen, using an electric current. Gas produced using renewable energy or carbon-free electricity sources has zero carbon footprint, which is called green hydrogen. The production and supply of green hydrogen energy from hydropower could be a new and golden business for Nepal in the future.
In the current situation when the whole world is moving towards a hydrogen based economy, it is not natural for a developing country like Nepal to lag behind alone. Therefore, for the study of this technology, there is a need for scientific research and investigation in Nepali educational institutions.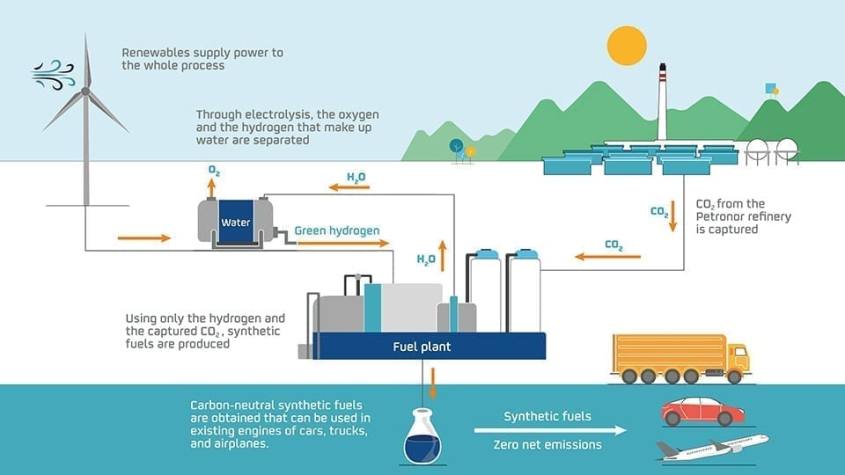 Today, Green Hydrogen Lab at Kathmandu University under Department of Mechanical Engineering aims to develop multi-disciplinary Lab with a vision to specialize Nepalese Industries to produce, store, transport, and use green hydrogen energy at a commercial level.
The GHLab's dream agenda is to develop foundations for the development of the Green Hydrogen Ecosystem in Nepal.
Green Hydrogen Lab



Green Hydrogen Lab is working to link the idea of using hydrogen as a potential energy carrier for the transition to a hydrogen economy.
With the mission of Technology transfer, Innovations, and Local adaptation of green hydrogen energy systems in Nepal through a continuous research and development activities, their vision is "Nepalese industries specialized to produce, store, transport, and use green hydrogen at a commercial level".
Green Hydrogen Lab has launched research into different fields that will lead the energy to green hydrogen in Nepal. The Nepal Oil Corporation and KU have signed the MoU to cooperate on the fuel and energy sector growth.


An MOU was signed by Kathmandu University (KU) and Nepal Oil Corporation (NOC) on 08 January 2021 to promote mutual interest in the growth of the fuel and energy sector and to contribute to enhanced cooperation between academic institutions and government corporations.
The MOU has been signed by Dr. Bahadur Nepali, Dean of School of Engineering, KU, and Er. Deepak Baral, Director, NOC.
NOC is still known as a company that buys from India and sells fuel on the Nepali market. With this MOU, the business has opened up a new opportunity for research and investment in Green Hydrogen as Nepal's alternative and potential fuel.
In the development of technology which can produce green hydrogen from electricity, the MoU between NOC and KU is significant. There will be electricity surplus soon in the future, and investment in the hydropower sector will be severely affected if plans and preparations for its alternative use are not made in good time.
Following the agreement, KU will also provide the requisite engineering consultancy for the related project activities that the company is currently running.
KU's Green Hydrogen Lab is committed to moving the country further towards the adoption of Hydrogen technologies in a safe and sustainable manner.

Also Read :

JEEP COMPASS FACELIFT SOON TO BE LAUNCH IN NEPAL

GULF LAUNCHES AN ADVANCED CLUBBED SCHEME WITH VITARA BREZZA DISTRIBUTION

HYUNDAI PARTNERS UK'S START-UP TO BUILD FIRST AIRPORT FOR FLYING CARS- REVIEWS

TESLA WANTS TO START BUILDING A NEW PLANT THIS SUMMER - REVIEWS

RENAULT KIGER UNVEILED IN INDIA, WILL BE AVAILABLE SOON IN NEPAL - REVIEWS
Compiled by :

Rahul Shrestha