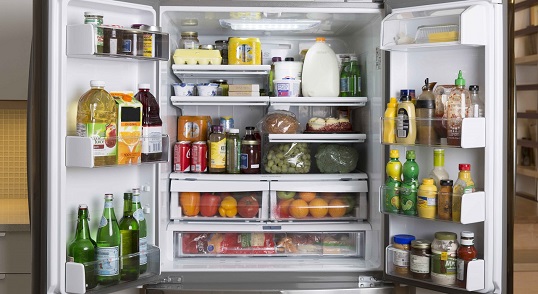 Tips for taking care of your refrigerator | Reviews Nepal
26th September 2020
"Are you thinking about cleaning your refrigerator? But are you worried about how? If yes, then worry no more and read further."
Are you searching for tips to take care of your refrigerator? Or, are you worried about how to clean your refrigerator? Then, worry no more. Here we are at your aid with some tips and tricks on taking care of your refrigerator.
Location
Many people ignore the fact that the location of the refrigerator is prominent. Don't place the refrigerator in a hot area and make sure that the place is well-ventilated. Also, for the condenser to work adequately, make sure the refrigerator stands at least 15 cm away from the wall. The leveling of the refrigerator should be checked thoroughly as the doors of unleveled refrigerators will not close properly and cause condensation, in plain words, the refrigerator will not function properly.
Storing foods
Refrigerators are significantly used for storing foods; but, the foods stored may cause some damage to the refrigerator. Make sure that the foods that give awful odors are tightly closed in containers so that they won't cause any contamination to other foods. Also, in case of cut veggies, fruits, and foods, make sure to cover them with plastic before storing them.
Defrost
Defrosting your refrigerator is essential to prevent from bacterias and contaminations. So, it's better to defrost your refrigerator once in a while. Best if you defrost it once a month.
Cleaning the refrigerator
Cleaning the refrigerator can be quite stressful for some people as they don't know what should be used and what should be avoided to clean it. While cleaning, make sure to turn off the temperature control prior to unplugging the refrigerator. Any kind of soap or soap-based detergent should be avoided. Best if you clean your refrigerator with a soft sponge and a solution of 2 tbsp of baking soda and 2 cups of water, and then rinse it off, then finally dry with paper towels. Also, don't forget to dust the condenser as well.
Don't store hot foods
If you want your refrigerator to last long and stay in good condition, don't store any hot foods inside it as it manipulates the temperature inside and hinders the temperature control.
Cold is better
You might have been already instructed about the temperature suitable for your refrigerator. Normally, its best to set the temperature between 3 to 5 degrees celsius. However, you may change the temperature as the season changes. The instructions for the temperature can be found in the refrigerator below the temperature control in some brands as well.
Think and open
Most of the people open and wander through every compartment searching for food and inspiration to cook. Well, it's not healthy for your refrigerator. First figure out what you want to eat or cook, then open the refrigerator. Opening the refrigerator for a longer period of time will cause a loss of 7% of cold temperature leading to unnecessary energy expenditure.
Also Read:
THINGS TO CONSIDER WHILE BUYING A TV
MIXER GRINDERS IN NEPAL- BRANDS AND AVAILABILITY
MICROWAVE OVENS PRICE IN NEPAL | 2020
HAIER REFRIGERATORS PRICE IN NEPAL | 2020
TOP 5 HAND AND BODY LOTIONS IN NEPAL | REVIEWS NEPAL
BEST ONLINE SITES FOR ELECTRONIC GADGET PURCHASE IN NEPAL
BEST 5 CAR ACCESSORIES TO UPGRADE YOUR CAR
Compiled by :

Prativa Parajuli