Traffic Rule Violators Can Pay Fine Through Online System - Reviews
5th February 2021
"Esewa to facilitate digital payment of penalty amount for violating traffic rules; people no longer need to loiter around police stations and banks as punishment."
From smartphone top-ups to airline tickets, paying insurance premiums, all sorts of online payment systems have been available in eSewa and are still counting in.
Recently, the Inland Revenue Office's online payment service was launched in eSewa, a admirable effort to bring government payment services under the shade of digital payment systems. eSewa has launched a new service where you can pay traffic fines online, continuing its persistent effort to add value to its clients. The facility to pay for traffic has now also been introduced by eSewa.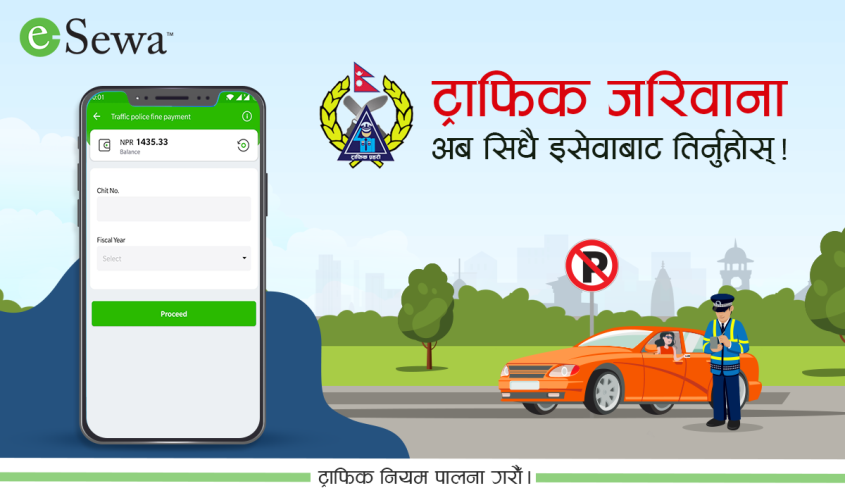 The Metropolitan Police Traffic Division has begun to collect a fine through an online payment system from traffic law violators.
The MTPD inaugurated the new online payment system, "An integrated system has been developed between the Traffic Division Violation Record System, Revenue Management Information System, and payment systems. Through the system, the fine amount is deducted from the bank account of the traffic rule violators," said Senior Superintendent of Police Janak Bhattarai, chief of the MTPD.
"The newly-introduced system will help in reducing big crowds in traffic offices. Once the fine amount is paid, rule violators should come to the traffic police office to collect their documents," said Bhattarai, adding that the rule violators do not have to queue up at banks to pay the fine amount now onwards.


Violators of the traffic law can pay the fine via eSewa. "The Division is also initiating talks with other digital service providers to introduce 'Traffic Police Fine Payment' option in their platforms," he said.
The option of 'Traffic Police Fine Payment' can be found in Esewa and IPS Connect, through which violators can pay the fine amount.
"Violators have to log in to their Esewa or IPS Connect account, and should enter the number of the slip provided by traffic police. After paying the amount, they can visit the respective traffic police office to collect their documents," said Superintendent of Police Shyam Krishna Adhikari, spokesperson for the division.

Also Read :

TESLA TO RECALL 135,000 U.S. VEHICLES UNDER PRESSURE FROM AUTO SAFETY REGULATOR - REVIEWS

ELECTRIC CARS: ROLLOUT OF CHARGING POINTS STILL TOO SLOW - REVIEWS

APPLE AND HYUNDAI-KIA PUSHING TOWARDS DEAL ON APPLE CAR - REVIEWS

GREEN HYDROGEN LAB : DEVELOPMENT OF THE GREEN HYDROGEN ECOSYSTEM IN NEPAL - REVIEWS

UPCOMING CARS COMING TO NEPAL THIS MONTH - REVIEWS
Compiled by :

Rahul Shrestha