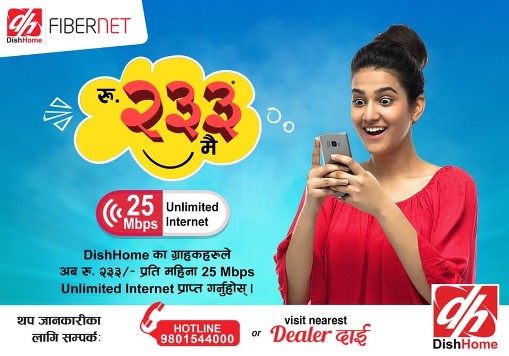 DishHome FiberNet comes with a new offer of 25Mbps unlimited internet at a very cheap price.
6th June 2021
"DishHome FiberNet comes with a new offer of 25Mbps unlimited internet at a very cheap price."
DishHome, one of the best TV service providers in the country, had started providing internet service a few months ago.
Now, DishHome FiberNet users can get a 25Mbps unlimited internet offer just at Rs 233 per month. This is as cheap as it can get so far for a strong and high speed internet connection at your home.
DishHome has established itself as one of the country's most renowned DTH service providers, bringing state-of-the-art services to nearly 10 lakhs homes. To cater to the demands of its DTH users, DishHome Fibernet was launched in February 2020. DishHome Fibernet aims to bring fast, affordable, and reliable technology to every business and residence.
Currently, DishHome FiberNet services can be accessed from following locations of the three districts:
Kathmandu:
Jadibuti, Kadaghari, Pepsicola, Chabahil, Boudha, Jorpati, Kapan, Buddhanilkantha, Basundhara, Dhapasi, Tokha, Gongabu, Maharajgunj, Baluwatar, Chandol, Dhumbarahi, Chappal Karkhana, Sukedhara, Mandikhatar, Balaju, Machapokhari, Nepaltar, Manmaiju, Phutung, Dharmasthali, Samakhusi, Gongabu, Sorhakhutte, Khusibu, Ranibari, Balkhu, Kirtipur, Sitapaila, All Nagarjun Municipality, Mulpani, New baneshwor, Old baneshwor, Gaushala, Maitidevi, Thankot, Badbhanjyang and All Godawari Municipality
Bhaktapur:
Madhyapur Thimi, Duwakot, Sallaghari, and Suryabinayak Municipality all wards
Lalitpur:
Sanepa, Kupondole, Jhamsikhel, Pulchowk, Dhobighat, Jawalakhel, Kumaripati, Lagankhel, Satdobato, Nakkhu, Bagdole, Bhaisepati, Chhampi, Gwarko, Hattiban, Imadole, Lubhu, Chapagaun, and Thecho
High-speed internet has been categorized as one of the basic requirements for humans. With this interesting new offer from DishHome, people from different parts of the country can easily connect to the rest of the world through the internet. The pricing for DishHome FiberNet 25Mbps offer is something you cannot ignore if you're smart. DishHome has also vouched to install the connection within 2 working days from when the call is made if their connection is technically possible within your location.
Also Read:
Compiled by :

Rahul Shrestha