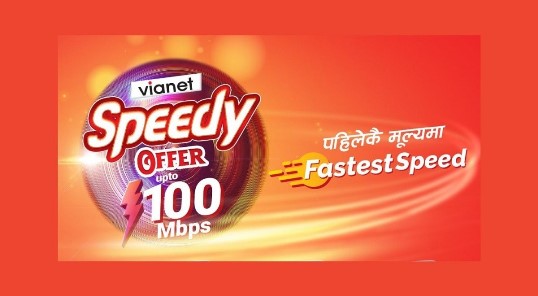 Latest offer by Vianet : Get more for same price
20th June 2021
"Vianet being one of the top players in the field has also taken a step in the current trend"
Recently ISPs in Nepal have been competing to provide better services at lower rates. Since the worldwide pandemic started, the internet has actually survived most parts of humanity. School, office, dating everything can and have to be done in cyberspace.
This high demand of trustworthy internet service has inspired the service providers to give out the best service at the cheapest price possible.
Vianet being one of the top players in the field has also taken a step in the current trend.
Vianet Speedy Offer:
The Speedy Offer is mainly suitable for those customers who are either renewing their packages or are new users. The Vianet users can receive an internet speed of up to 100 Mbps at a cheaper price and no additional cost. This offer is valid for a limited duration only. You can receive the following offers in your package deal.
The Vianet users get a significant speed bonus while upgrading to/ or renewing their 1-year package at the same price:
30 Mbps becomes 50 Mbps + 1 viaTV (Rs. 15,000 yearly)
40 Mbps becomes 75 Mbps + 2 viaTV (Rs. 17,400 yearly)
60 Mbps becomes 100 Mbps + 3 viaTV (Rs. 21,600 yearly)
Also, customers get Rs. 1000 reward points on the purchase of the above packages. You can use those reward points to discount your next Vianet bill.
Similarly, new customers get free Installation service and Set-Top-Box in their first package deal. It means new Vianet users don't have to pay the installation charge and Primary Set-Top-Box activation charge during this offer.
Vianet Referral Scheme
Vianet Referral Scheme is a reward system designed for its customers where Vianet's customers are able to earn reward points for making internet referrals to friends, family and colleagues. To refer a client, you should log in to your Customer Portal/Vianet App and select "Refer A Friend". A screen will appear where you can enter your friend's contact details. The referral will be termed as successful once the referred customer confirms installation and makes his first payment. During the campaign period, you (Referee) will get 1 Month Bonus in your current account for every successful referral you make.
To learn more about Vianet's special offers and more please visit their official website or their Facebook page.
Also Read:
Compiled by :

Rahul Shrestha