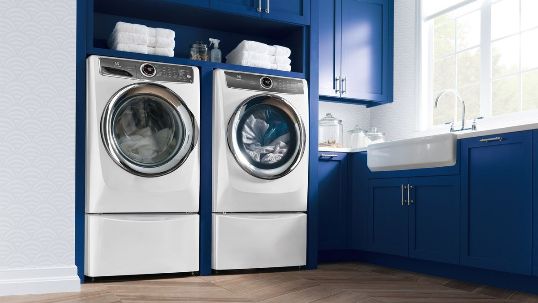 What kind of washing machine is suitable for you?
26th September 2020
"Which washing machine would you prefer? Automatic or semi-automatic?"
Washing machines, undoubtedly, are replacing the traditional tap and soap for washing. With washing machines, you don't have to struggle to rub the soap over the cloth until your hands ache. You can simply load the dirty clothes into the washing machines and after a few moments, take the freshly washed and dried clothes out. While buying the washing machines, you have to consider and research the type you require. There are different kinds of washing machines like semi-washing machines, automated, integrated, portable, etc. These all are compiled and differentiated into the following types.
Semi-automatic washing machines
Semi-automatic washing machines, as their name suggests, are only semi-automated and require a lot of human intervention while washing the clothes. It has 2 drums- one for washing and another for drying. Washing clothes in the washing machine requires 3 steps- washing, rinsing, and drying. And while using semi-automatic washing machines, after washing is done, you have to push a button to drain out the dirty water. Then, again after rinsing is done, you again have to push a button to drain the water. Then, after rinsing, you have to manually shift the clothes to the dryer drum. It requires a lot of work. However, cost-wise it is the cheapest washing machines of all.
Fully-Automatic washing machines
Fully-automatic washing machines, unlike the semi-automatic, requires no human intervention at all. All the work from filling the water, washing, draining the dirty water, rinsing, and drying are done by the washing machine itself. You just have to fit the washing machines, tap for water and proper drainage, then just load the clothes in and out of the washing machines. They are the most convenient and hassle-free washing machines. Being automated and advanced than the semi-automatic washing machines, it is quite costly.
Top- loading washing machines
Top-loading washing machines are the ones in which you have to load and unload the laundry from the top. This kind of washing machine is available in both semi-automatic or automatic form. Fully-automatic top-loading washing machines come with different wash programs such as gentle wash for your frail clothes and synthetic wash for your cotton clothes. For me, the fully automated washing machines are the best as you can wash your clothes conveniently without struggling to shift the clothes from washer to dryer, plus it also has a number of wash programs and all of this at a reasonable price.
Front-loading washing machines
Front-loading washing machines are the ones where the laundry is loaded and unloaded from the front. Most of the front loading washing machines are automated except for the washer and dryer that comes with different machines for washing and drying. In long run, the front-loading washing machine will be better because it consumes less water and electricity. They also consume less space as they can be stacked one upon another. The integrated washing machine can also be fitted inside a cabinet. Likewise, the portable front loading washing machines are also effective if you shift homes a lot or if you are living in a dorm or hostel. However, if you suffer from backache then you might have to bear a lot of pain as loading and unloading the clothes in front loading washing machines is quite a difficult work.
Also Read:
CG WASHING MACHINES PRICES IN NEPAL | 2020
BEST ELECTRONIC TOYS FOR KIDS IN 2020 | REVIEWS NEPAL
WHICH GADGET IS BEST SUITABLE FOR ONLINE EDUCATION? SMARTPHONE, TABLET OR LAPTOP?
TOP 5 FACE CLEANSERS AVAILABLE IN NEPAL | REVIEWS NEPAL
SAMSUNG REFRIGERATORS PRICE IN NEPAL | 2020
TIPS FOR TAKING CARE OF YOUR REFRIGERATOR | REVIEWS NEPAL
Compiled by :

Prativa Parajuli