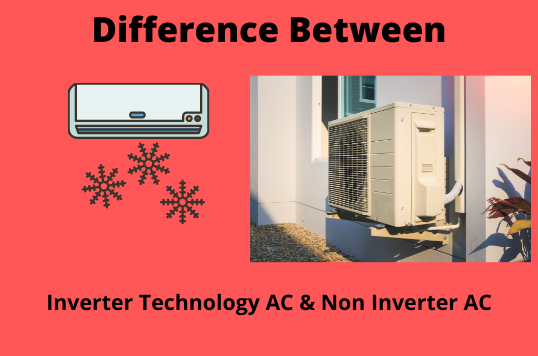 What is Inverter AC and How it is Different from Non Inverter AC?
12th May 2022
"Inverter technology is designed in such a way that it can save 30-50% of electricity (units consumed) over a regular air conditioner."
If you are looking to buying an air conditioner, the most efficient technology that is available in market today is the Inverter Technology for AC.
Inverter technology is designed in such a way that it can save 30-50% of electricity (units consumed) over a non inverter Air conditioner.
Have a look what is inverter technology and how is it different from a non inverter ACs?
What is Inverter Air Conditioner?
An inverter is a device for converting frequency. The technology is used in many home appliances and controls electric voltage, current and frequency.
Inverter air-conditioners vary their cooling/heating capacity by adjusting the power supply frequency of their compressors.
When compressor needs more power, it gives it more power. When it needs less power, it gives less power.
With this technology, the compressor is always on, but draws less power or more power depending on the temperature of the incoming air and the level set in the thermostat.
The speed and power of the compressor is adjusted appropriately. This technology is being used successfully for air conditioners and refrigerators.
This technology is currently available only in split air conditioners.
Also read: THINGS TO CONSIDER WHILE BUYING A AIR CONDITIONER
Advantage of Inverter Technology
Every air conditioner is designed for a maximum peak load. It is very important to install a right sized air conditioner in a room.
For example a 1.5 ton AC is designed for a certain size of room and 1 ton for a different size which can be depend on average temp of place.
A regular air conditioner of 1.5ton capacity will always run at peak power requirement when the compressor is running.
An air conditioner with inverter technology will run continuously but will draw only that much power that is required to keep the temperature stable at the level desired. Its automatically adjusts its capacity based on the requirement of the room it is cooling.
Thus drawing much less power and consuming lesser units of electricity.
Although air conditioner with Inverter Technology adjusts its capacity based on the room requirement.
Please make sure that take advise from expert can evaluate the room size and air conditioner capacity before you make a purchase.
At glance difference between Inverter Technology AC and non inverter AC
1. The heat load in a room does not remain constant and it varies from seasons, varies based on number of people, varies between day and night, varies based on climate profiles of your location.
2. Inverter technology air conditioners are variable speed/ variable tonnage air conditioners and thus operationally they are quite different from regular air conditioners that have single speed compressors and single tonnage.
3. Inverter technology air conditioners adjust their speed/tonnage depending on heat load of a room. Whereas regular air conditioners do not.
4. The inverter tech AC changes the flow rate of refrigerant based on the heat of the room. When heat is less, the flow rate is less, when heat is more, the flow rate is more. And it does not switch off the compressor ever. It just makes sure that if temperature setting is 24, it is maintained at that level.
Power Consumption of Inverter and non inverter ACs
Annual Electricity Consumption (Units or kWh for 1600 hrs) based on data from Bureau of Energy Efficiency, GOI
As technology advances, we can find more brands and products entering the market with advanced features from energy efficient to health care benefits.
While buying an air conditioner you pour a huge amount of investment. And, in order to make the investment-worthy.
Also Read:
Ford Nepal announces arrival of 2022 ford Everest in Nepal
Segway E-Scooters In Nepal |Specification & Price|
Galaxy A73 5G, Galaxy A53 5G and Galaxy A33 5G
Realme Narzo 50 launched with Helio G96 SoC and 120Hz display in Nepal
Vivo X Fold: Unveiled its first foldable phone
Compiled by : Team Reviews