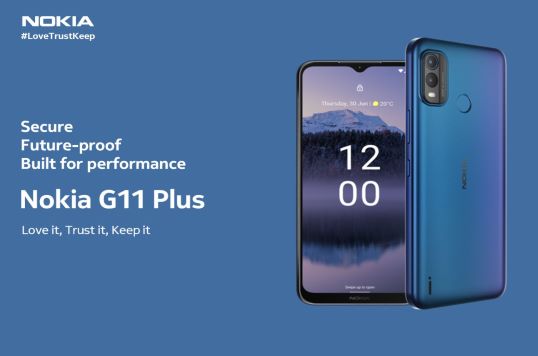 Nokia G11 Plus Launched In Nepal
22nd September 2022
"The New Nokia G11 comes with signature build quality and updates ensuring longevity."
Nokia G11 Plus Launched In Nepal
HMD Global, the home of Nokia phones, announces the new Nokia G11 Plus.
Further building on the G-series success, it comes with signature build quality and updates ensuring longevity, Android 12 benefits straight out of the box, and a long-lasting three-day battery to get you through the daily grind.
With twice as many security updates than competitor devices, delivered regularly, Nokia G11 Plus ensures your content and online activities are protected now and for years ahead.
Supported by both fingerprint and face unlock for total confidence – and, with Mask mode, daily use is even more convenient.
From a more personalized user interface to scrollable screenshots, you can enjoy the latest Android 12 in all its glory.
Thanks to the two-year software upgrade promise Nokia G11 Plus comes with, you can already look forward to the fresh features and innovations the next Android version will bring.
Nokia G11 Plus packs its massive three-day battery in a slim Nordic design, giving you a license to forget to charge for an entire weekend and kick battery anxiety to the curb.
Available on Nokia phones only, the Super Battery Saver will squeeze an extra few hours when you need it the most.
The tough polycarbonate body is rigorously tested for durability and comes in a beautiful flip color finish that beautifully changes hue depending on the light conditions.
The 50MP camera is assisted by AI technology to produce clear, dynamic photos in any lighting conditions, so you can get creative.
The Super Night algorithms mode will make sure details are clear in the darkest hours of the day.
An answer to people's go-to screen size 4, the 6.5" HD+ display hits the sweet spot – feels comfortable in the hand and fits nicely in the pocket.
The seamless experience thanks to the 90Hz refresh rate makes Nokia G11 Plus a dream to browse and explore on.
Pricing and availability
Nokia G11 Plus is available in Nepal starting from today in Blue and comes in 3/64 options starting at 19,499/-.
Also Read:
NADA All Set To Organize 'NADA Chautari' Seminar On EVs Throughout The EV Expo
Samsung Galaxy A04s with 50MP Camera officially launched in Nepal
Honda Presents the Biggest Festive Offer of the Year
Suzuki "Parvotsav" Festival Scheme Launched
Segway Nepal announces 'Yo Dashain/Tihar Segway ko Sath Upahar 7' offer
TVS Brings 'Kayapalat' Festive offer
Compiled by : Rebika Bishokarma