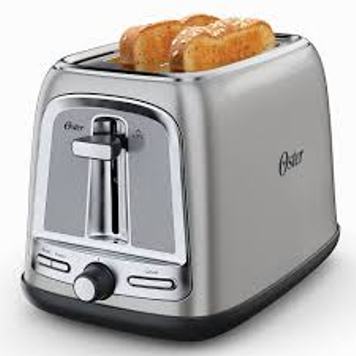 Things to consider while buying a Toaster
30th November 2020
"Let your toaster complement your kitchen theme."
The toaster is often considered as an unimportant appliance in most of the kitchen but ironically owned by many of them. The toaster has been doing wonders for busy people. Make some instant coffee and toast your bread instantly, and there you are ready for office or business. The toaster is not as insignificant as people tend to think. Its absence can affect a lot of people. However, not many people think thoroughly while purchasing a toaster. Lots of options prevail in the market. And in order to find the best toaster for you, you need to keep the following things in considerations.
Type
As for the type, there are 2 types of toasters i.e. basic toaster and toaster oven. If you have or can afford other electronic appliances like microwave oven, sandwich makers, etc, then it's best to get a basic toaster that pops up the bread you put into toast. However, a toaster oven not only toasts bread but performs other variety of cookings as well. You can cook a frozen pizza, bake cookies, or even brail meat in a toaster oven. They are a multi-functional toaster and are best suitable if you live by yourself far from home.
Style
If you are conscious about your home decor and want to compliment your appliances with each other and the furniture, then you must check the style you want. For instance, if you have other appliances styled or made up of stainless steel, then it's best to get yourself a toaster made up of stainless steel.
Size
The size of the toaster depends upon the number of slots you want, the width and length of the slots, and the counter space available for the toaster in your kitchen. Based upon these factors choose the size that's convenient for your kitchen and needs.
Convenience
Primarily, you might find some difficulties in finding out the preferred setting for your toast. But once you figure that out, it will be easy to use regularly and your blood pressure won't rise up. For this, buying the perfect sized toaster with the perfect number of slots for you will be of much help.
Cleaning a toaster can be really difficult unless you have a crumb tray that holds the crumbs that fall out.
Settings
In a basic toaster, you will get 3 options of light, medium, and dark. Oftentimes people don't need more than these options. But if you wish for a more sophisticated model then do look out for other settings like defrosting the frozen wafels, bagel mode that darkens one side more than the other, and many other settings as per your preference.
Features
Every toaster differs from one to another. But, let's talk about the features whose presence can ease you a big time. Self-adjusting guides- this feature ensures that the bread is properly adjusted and toasts evenly. Cancel button- it helps you to stop toasting any time when you feel the toast is on the verge of getting burnt. Crumb Tray- it collects the waste crumbs which eases the cleaning process. Convection heating- Toaster ovens with a convection setting can cook things faster and more evenly.
---
Reviews is conducting a weekly contest. Answer a simple question and get a chance to win exciting gift hampers from Aiken Care Package. Go to our Facebook page for more details or also can check the details on our Instagram page.
---
Also Read:
WHY SHOULD YOU GET YOURSELF A RICE COOKER?
HOW TO CHOOSE CURTAIN FOR YOUR ROOM?
DIFFERENT TYPES OF VACUUM CLEANERS AND THEIR FUNCTIONS
THINGS TO CONSIDER WHILE BUYING A GEYSER AND WATER HEATER
6 SKIN CARE APPLIANCES THAT YOU MUST GET YOUR HANDS-ON
TOP 4 CANON CAMERA IN NEPAL | WITH SPECS AND PRICE
XIAOMI MI SMART BAND 5 LAUNCHED IN NEPAL- SPECS AND PRICE | REVIEWS NEPAL
TOP 5 EARBUDS IN NEPAL 2020 | REVIEWS NEPAL
Compiled by :

Prativa Parajuli