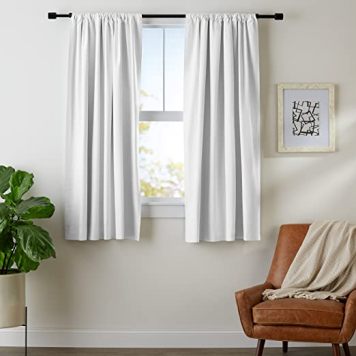 How to choose curtain for your room?
19th November 2020
"Get yourself long floor-touching curtains to give your room a vogue vibe."
Sometimes choosing a curtain for your room can be pretty puzzling. You get all wind up in the numerous options and confuse yourself with your requirement and your preference. Matching preference and requirement is the key to the exemplary room and atmosphere you want and need. But, this match can be quite a hassle; so, we are here to bring you at convenience with a few things you must look out for while buying a curtain.
Length
The length of your curtains can depend upon your preference and choice. If you want a minimalistic yet classy look, you can go with small-lengthed curtains. However, if you want vogue-style curtains then it's best to get long floor-touching curtains. Moreover, you may also buy a long curtain a few inches poddling on the floor as well. However, if you have children, it's best to have small lengthed curtains a few inches above the floor.
Width
The width of your curtains depends upon the molding of your windowpane or door. It's better to get a curtain whose width is few inches more than the actual width of your windowpane or door. It gives your curtain a more gathered appearance and helps your windows look more appealing when your pleat and spruce it up.
Color
Your curtains must sync with the furniture and walls in your room. They can either be contrasting or harmonizing with the rest of the furniture in the room. If you want a pleasing look, choose the color that complements the walls and furniture of the room. And, if you want the curtain to get more focused, you can choose the color that contrasts with the color of furnitures and walls.
Fabric
The material of the fabric can make a huge difference in the texture and tone of the curtain. You have plenty of options for fabric. If you want a simple and light-weighted curtain, there are tons of options available from sheer lace to lightweight cotton. Or if you want to give your room a classy and high-maintenance look, you have options from medium-weighted to heavy velvet curtains. You can choose the type of fabric depending upon the amount of sunlight required in the room and the vibe or mood you want to set in the room. For instance, if you want to give a traditional vibe to your room, it's better to go with heavy velvet fabrics. Also, the type of fabric affects the look of the curtain when pleated and drew back.
Lining
The lining is essential to determine the amount of sunlight that enters your room and to attain the privacy you need. If you are to place a curtain in sunlight that receives direct sunlight, then it's best to get a curtain with a protective lining. Moreover, two layers can get you the chance to change the amount of sunlight that enters the room as per your desire. However, keep in mind that a lining makes a curtain heavier.
Printed or solid
Choosing the patterns or prints of your room depends upon your room decor. If other furnitures in your room have a soft color, it's wise to go with a printed/ patterned curtain, and vice versa. It's better if you try to complement the colors of your curtain with solid-colored furniture accessories like cushions, rugs, etc. to give it a more enticing look.
---
Reviews is conducting a weekly contest. Answer a simple question and get a chance to win exciting gift hampers from Aiken Care Package. Go to our Facebook page for more details or also can check the details on our Instagram page.
---
Also Read:
SAFETY MEASURES WHILE USING A MICROWAVE OVEN
TIPS TO KEEP THE EXTERIOR OF YOUR CAR NEW AND SHINY.
WHY IS GAMING MOUSE BETTER THAN NORMAL MOUSE?
DIFFERENT TYPES OF VACUUM CLEANERS AND THEIR FUNCTIONS
THINGS TO CONSIDER WHILE BUYING A GEYSER AND WATER HEATER
TOP ONLINE FURNITURE SHOWROOMS AND STORES IN NEPAL
Compiled by :

Prativa Parajuli