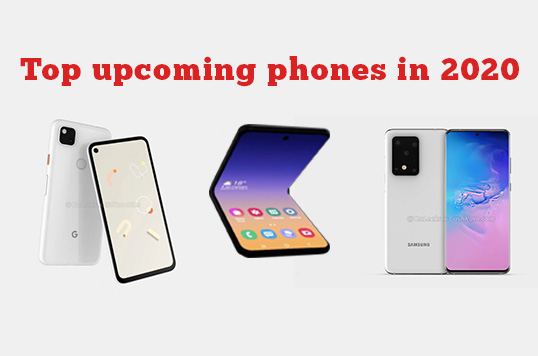 Top Upcoming Phones in 2021 | January Update
13th April 2022
"The List of phones that are coming in 2020."
2019 has come to an end, marking the start of a new year and a new season for smartphones. We saw some awesome phones, as well as big duds in 2019, and expectations from 2020 phones are high. Here is the list of upcoming phones in 2021.
Samsung Galaxy S11
Galaxy S10 from the previous year was and still is an awesome phone. It had awesome specs, a good Samsung design, and awesome features. But it went under the radar for many, as various awesome phones came out.
This year, Samsung is trying to change this and from the looks of it, it is working. Samsung's other upcoming android phone for 2020, Samsung S11 is already in the hype and the phone has not even come out yet. S11 is expected to come in three variants and three display sizes. It is expected to come in, either 6.2″ or 6.4″, the middle one coming at 6.7″ and the largest one measuring 6.9″. The smaller two variants will come in both 5G and LTE variants. All the variants will have a curved-edge display, bye-bye flat display and may use their own 108MP Samsung ISOCELL Bright HMX S5KHMX camera sensor as the primary camera. The phone is expected to launch in mid-to-late February launch.
Oppo
Oppo A92
The device is now available in Malaysia with the Indonesian start-up across the edge in China as Oppo A72. The product will almost definitely hit the South Asian market, like India and Nepal, but it looks like Oppo will again rebrand this device. Previously, Oppo began with Oppo A91 as Oppo F15 and sources say the Oppo A92 as Oppo F15s are being introduced.
Reno 5G
Oppo Reno5 Pro 5G is fitted with a 4350mAh 2 cell battery and thus can be charged with 65W SuperVOOC 2.0. Oppo reports that within half an hour the unit can be completely filled. Likewise, a five-minute fast loading session offers 4 hours of video replication.
A few months ago, Oppo first introduced the Reno5 series in China. And the organization now has the devices on the global market affordable. In India, Oppo Reno5 Pro 5G with a price tag of INR 35,990 for an 8/128GB version is now available for pre-ordering. Although there isn't any news here about the date of Oppo's launch, we predict that Oppo Reno5 Pro will be around Rs 58,075 in Nepal.
Nokia 5.4
Nokia 5.4 is a further compliment to the Nokia 5 series, a mid-range segment in general. The Snapdragon 662 is designed to be Nordic, identical to the Nokia 3.4.
Possibly in other regions like Nepal, HMD Global will operate the unit. A precise date, however, was not disclosed. The price of Nokia 5.4 in Nepal's basic variant is going to be around Rs 28000.
Also Read:
XIAOMI LAUNCHES MI 10 AND MI NOTE 10 LITE IN NEPAL | FULL SPECIFICATIONS, PRICE
APPLE IPHONE SE 2020 LAUNCHED WITH A 13 SOC,TOUCH ID SUPPORT | PRICE, SPECS
REALME LAUNCHES FOUR NEW ARTIFICIAL INTELLIGENCE OF THINGS (AIOT) DEVICES IN NEPAL | SPECS | PRICE
WHY DOES ONE NEED LIFE INSURANCE?
ONLINE LEARNING EFFECT ELECTRONIC DEVICE USAGE TO RISE
Compiled by :
Biplav Gachhadar