Accessories essential for your computer or PC
17th January 2021
"Are you in confusion regarding the accessories that might be essential for your desktop or PC? If yes, then don't worry! We got your back!"
Every PC comes with the basic accessories one needs for basic works while buying it. However, the basic accessories may become obsolete really soon and maybe a disadvantage for you while doing your work. Not every normal keyboard can handle fast typers and may not survive for a longer period. You may be at convenience with a gaming mouse and its programmable buttons rather than the normal mouse. And, having a good pair of headphones, best if wireless, can enrich your PC experience with the great bass and audio.
If you are a PC or desktop user who wants to make the most of their PC and want to perform their works conveniently, then you must have the following accessories.
Gaming mouse
Every desktop or PC comes with a mouse which is normal and comprises of a left-click button, right-click button, and a wheel to scroll up and down. But, if you get yourself a gaming mouse, then you can change the tabs easily, or you can easily delete a file, or you can easily open an application, just by clicking the programmed buttons. With their programmable buttons, you can work on your computer easily. Besides, because of the ergonomic design of the mouse, your hand fits perfectly and you can use the computer for long hours without risking any hand injury or pain. And, as the DPI is high, if you are a fast user, you can have fun with the fast-moving cursors.
Mechanical keyboard
Who won't wish to have a better typing feel, right? With mechanical keyboards, you can get not only a better typing feel but accuracy even during the fast typing. They tend to have more tactile key travel and response than membrane keyboards. Most gamers use the mechanical keyboard because of its speed, accuracy, and feel. Besides, they make less noise because of the high-quality plastic key switches underneath the keycaps.
Good flash drive
Everyone must have external portable storage. It is a quick, easy, and portable backup solution for everyone. Flash Drive is light, rewritable, removable, portable, and affordable memory. Even at a relatively cheaper price, you can get flash drives with higher capacities. It is a plug-and-play portable device and is essential for not just a PC user but for every student and company workers.
Webcam
The webcam is an indispensable accessory for every PC if you are a student or a work-from-home employee. Not only for students or workers, but a good webcam is also essential if you want to video-call your family and friends from the PC. Make sure to buy a webcam with good resolution, software, and other features.
Mic
Be it for online classes, video conferences, vlog editing, live streaming, or voice-overs, a good quality mic can make a lot of difference. With a good microphone, you can make video calls, editing, and streaming to the next level of intimacy with the clarity in your voice.
Good pair of headphones
If you want to have an augmented PC experience while playing games or while listening to songs, then do buy a good pair of headphones, best if wireless, with proper bass and audio quality.
USB Hub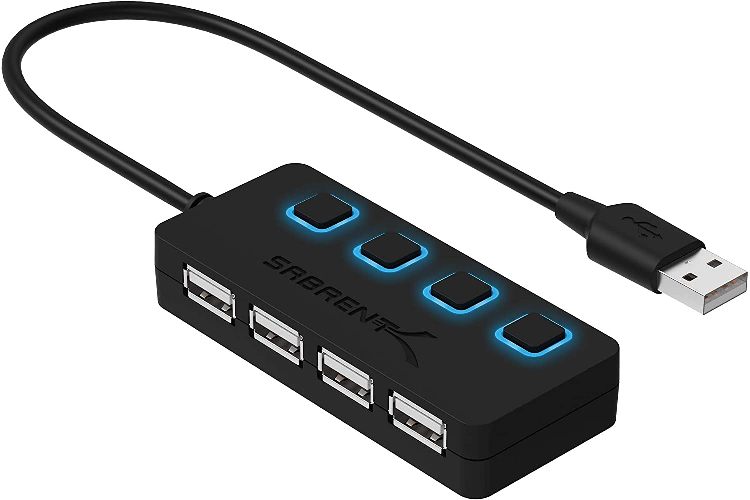 The USB hub is a hub where you can connect multiple USB cables and transfer the files and documents. The USB hub gives you chance to connect multiple USB cables with your PC without reducing the transfer speed. It will bring wonders to your work life.
Organizer
Every worker or student's desk looks all messed up with the books, coffee mugs, wires, mouse, and keyboard placed unnaturally and all. If you get yourself an organizer, you can organize all the pens, copies, and other stationery items together and have a place allocated for your coffee mugs, mouse, and keyboard.
Zippered sleeve
A zippered sleeve is an accessory with which you can organize all the pesky wires that comes in your way. With it, you don't have to bother untangling the wires of the monitor, keyboard, mouse, and charger. Zip them all and you get a clean desk.
---
Reviews is conducting a weekly contest. Answer a simple question and get a chance to win exciting gift hampers from Aiken Care Package. Go to our Facebook page for more details or also can check the details on our Instagram page.
---
Also Read:
TOP 5 SUNSCREENS FOR OILY SKIN IN NEPAL
BEST ONLINE SITES FOR ELECTRONIC GADGET PURCHASE IN NEPAL
DIFFERENT TYPES OF VACUUM CLEANERS AND THEIR FUNCTIONS
6 SKIN CARE APPLIANCES THAT YOU MUST GET YOUR HANDS-ON
TOP 4 CANON CAMERA IN NEPAL | WITH SPECS AND PRICE
TOP 5 BEST SCOOTERS IN NEPAL 2020 | PRICE, SPECS
Compiled by :

Prativa Parajuli