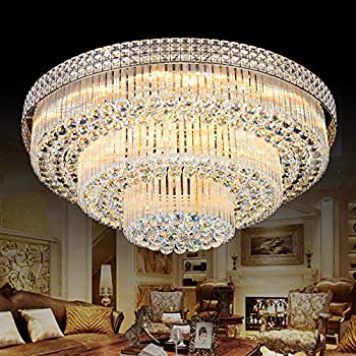 What kind of chandelier do you want?
27th November 2020
"Choose a chandelier that complements your decor."
A chandelier can add beauty to your interior design. Chandeliers are the symbol of modern elegance and you may have seen many beautiful chandeliers hanging on the ceiling of every ballroom and dining hall. If you have a higher ceiling and want to give your house a sophisticated look, then add a beautiful chandelier to your room. If you want a classy yet minimalistic kind of decor, you can go with beaded chandeliers. Or, if you want a traditional and elegant kind of vibes in your room, then you can go with crystal chandeliers. You can have a chandelier that matches your furnitures and decor as well.
There are a variety of options while buying a chandelier. You can heed the different varieties and choose the one that suits your needs and decor.
Candle chandelier
One can say candle chandeliers is the beginning of the chandelier. Often, these chandeliers have atleast five beautiful extensions each having candlelight at the end. These chandeliers are best for the dining room and as they are not as huge as others on the list, they don't require much space as well.
Crystal chandelier
Crystal chandeliers are named after the materials that are used in them- crystals. Crystal chandeliers have many forms and can go with every part of your room be it the dining room, hall, spiraling stairways, and even bedroom. It brings a different vibe and charm to the room with its presence. Moreover, as per your convenience, you can choose from a miniature chandelier to a huge sophisticated chandelier.
Glass chandelier
Glass chandeliers are also named after the materials used in them. They can be found in different forms and sizes; so, you can choose one as per your need and desire. You can find the appropriately sized chandelier for every room that sets a different mood and vibration in the room.
Bowl chandelier
Bowl chandeliers can be found in different shapes and sizes; most of the time, they don't even take much space. As the light emitted by the bowl chandelier is directed towards the ceiling and only the lights passing through the holes make it up to the rest of the room, it is best for someone who have cannot tolerate excessive light.
Modern chandelier
The modern chandelier best represents the innovation of the digital age. Every style, design, and shape in the modern chandelier compliments the modern era. With their geometrical shapes and style, it can suit your living room and entrance pretty well.
Beaded chandelier
Beaded chandeliers, as their name suggests, are entirely made up of beads. They can be quite a piece of conversation. The beads are made up of glass, or wood, or even shells. Depending upon the size and decor suitability, you can place it anywhere.
Caged chandelier
Caged chandeliers, in my opinion, are the best kind of chandelier that you can place in your living room or entryways if your house has a minimalistic decor. The chandelier has a light in the middle and is surrounded by different bars which form a cage-like structure. It is really intricate yet beautiful design which will probably bring a lot of attention.
---
Reviews are conducting a weekly contest. Answer a simple question and get a chance to win exciting gift hampers from Aiken Care Package. Go to our Facebook page for more details or also can check the details on our Instagram page.
---
Also Read:
INDOOR PLANTS THAT REQUIRE LOW MAINTENANCE
5 MUST HAVE EARRINGS FOR WOMEN
INGREDIENTS TO AVOID WHILE BUYING A HAIR COLORANT/DYE
HOW TO TAKE CARE OF YOUR SKIN DURING WINTERS?
6 SKIN CARE APPLIANCES THAT YOU MUST GET YOUR HANDS-ON
WHAT MEDICAL DEVICES SHOULD I HAVE AT HOME
TOP 5 REFRIGERATORS UNDER 50000 IN NEPAL
Compiled by :

Prativa Parajuli