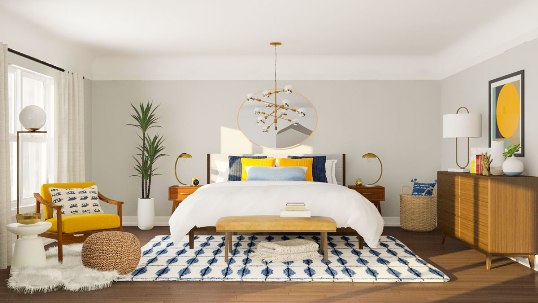 Furnitures for your bedroom | Reviews Nepal
29th September 2020
"Furniture not only accessorize your bedroom but also eases your lifestyle knowingly or unknowingly."
Furniture adds beauty to your room and eases your life. With appropriate and sufficient furniture in your bedroom, you won't have a problem with managing your stuff and finding them. Normally bedrooms don't have much furniture in need other than bed mattresses and wardrobe, but the requirement differs from person's usage and choice of decor.
Bed and mattress
In the bedroom, having a bed is obvious. The history of bed and mattress starting from a thin carpet has now evolved to the thick springy mattress with a bed made up of wood or steels. Especially the bed made up of stainless lasts for a longer period of time, but the bed made up of wood is relatively cheaper. As for the wood-based bed, there are different shapes, sizes, and designs. There are 4 legged beds and box beds famous and widely used in almost every household. Talking about the mattresses, there are air mattresses, foam mattresses, springy ones, and many more. Depending upon your need and requirement, you can get the mattress of your desire.
Wardrobe
A wardrobe for managing and organizing your clothes and other belongingness is essential for your room. Many people, nowadays, are following the modern western trends and have a separate furnished room with shelves and compartments for storing their clothes, shoes, and other belongings. However, not all can relish the luxury, so there are several wardrobes made up of steels and wood. From single doored wardrobes to multiple doored wardrobes, one can choose one relying upon their requirement and the room capacity. There are wardrobes decorated with cartoons and animes for your kids as well.
Dresser
Dressers can be of several usages than most people realize. There are varieties of dressers in the market. From small heightened to tall and huge dressers, one can purchase the dresser of their choice. Some dressers are specially designed with beautiful mirrors, some even with bulbs, for women to store and apply their makeup. Some dressers are made completely for extra storage with lots of drawers and cabinets. Likewise, there are elegant dresser with less storage capacity but are a pleasant sight for the eyes. Dressers are the best options to go for if you want to add extra storage to your room. Moreover, you can organize the drawers by yourself using organizers.
Nightstand or night table
If you are a person who wears glasses or has to take off your watches before sleeping, then a nightstand can do wonders for you as you won't have to panic about breaking your glasses as soon as you wake up. Not just for such purpose, the nightstand can be the best accessory for your room and your bed. You can keep a lamp on it and can read books and novels on the bed without having to rotate your book in search of proper lighting. You can also store your medicines in the drawers of the nightstand. It also helps with extra storage.
Also Read:
TOP 5 FACE SERUMS THAT ARE AVAILABLE IN NEPAL
5 MOTORBIKE ACCESSORIES THAT EVERY BIKER MUST-HAVE
THINGS TO CONSIDER WHILE BUYING A GAMING LAPTOP
TOP 5 MOBILES UNDER 25000 IN NEPAL | 2020
REALME V3 - SPECIFICATIONS AND PRICE
BEST ONLINE SITES FOR ELECTRONIC GADGET PURCHASE IN NEPAL
MIXER GRINDERS IN NEPAL- BRANDS AND AVAILABILITY
TOP 5 ONLINE SHOPPING SITES IN NEPAL | 2020
Compiled by :

Prativa Parajuli