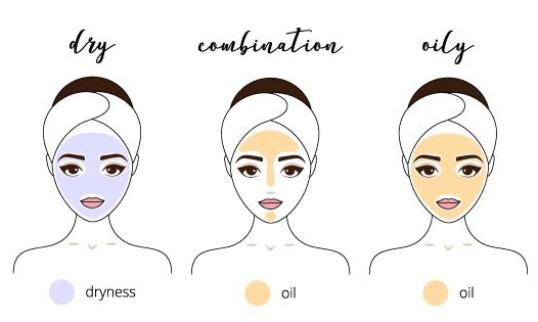 What is your skin type? | REVIEWS
7th November 2020
"Do you really have oily skin? Or is it combined skin?"
Skin is the biggest organ of your part and taking care of it sometimes is a huge task. Prior to implying various steps on taking care of your skin, you need to know what your skin type. You may put on heavy oils without really knowing your skin and may clog the beautiful pores suffocating them. Or, you may put on some heavy moisturizers that will reduce natural oil from your skin resulting in extra dryness. So, knowing your skin type is very essential. You need to understand your skin type in order to use the appropriate products to bring balance to your skin and make it healthy.
Every person's skin varies from each other. You may have dry skin but its level of dryness differs from any other person with dry skin. It's not possible to divide every skin type as it will create millions of types. So, basically, there are 3 types of skin i.e. Dry, Oily, and combination. Let's get to know them in brief.
How to know your skin type?
First of all, cleanse your face thoroughly with a mild cleanser and pat dry. Leave it for about 30 minutes without applying any other moisturizer, serums, and cream. After 30 minutes, if you have a shiny T-zone i.e. nose and forehead, you have a combined skin. And, if you get parched skin that feels tight and you face difficulty while smiling, you have dry skin. And, if you get a shine on your cheeks, and chin including your T-zone, then you have oily skin.
Dry Skin
Dry skin feels tight throughout the day. You may feel rough patches in your skin as they can be all flaky sometimes. People with dry skin face difficulties and pain in their faces when the skin folds. Dry skin is often caused due to genetics, environmental factors such as lifestyle & diet, hormonal changes, and climate; moreover, dehydration also causes dry skin- so, make sure you drink plenty of water to avoid any form of dryness. Also, it's better to avoid any form of alcoholic drinks and caffeine to have glowing skin. With daily exfoliation and moisturization, you can have a glowing face without any dry patches. If you exfoliate before moisturizing, then your skin can absorb moisture adequately.
Oily Skin
If you have shine on your entire face including nose, forehead, cheeks, and chin, then you probably have oily skin. Often when you wake up, your face will be all wet with the natural oils; furthermore, your pillow may also get wet due to the face oils. Excess oil in the face may leave your face congested and clogged which will make your skin unhealthier and difficult to breathe. Oily skins are often prone to acne; so, you have to take proper care of your skin and maintain balance with the natural oil. The best thing about having oily skin is that it has natural moisture and is less prone to wrinkles. With a gentle physical exfoliation with anti-bacterial ingredients, you can get rid of acne, and dark spots resulting from recent skin breakouts; and can also bring balance to your natural oils unclogging your pores.
Combined Skin
If you have shine on the nose and forehead, then you have combined skin. Combined skin is often moisturized in the T-zone. Normally, a person with combined skin has low to no breakouts. Daily gentle exfoliation is also important to keep the t-zone and cheek areas balances. Moisturizers with a gel-like texture are absorbed more quickly and less likely to cause breakouts. Start with a small amount and increase as needed to avoid over-moisturizing and stressing the skin.
---
Reviews is conducting a weekly contest. Answer a simple question and get a chance to win exciting gift hampers from Aiken Care Package. Go to our Facebook page for more details or also can check the details on our Instagram page.
---
Also Read:
TOP 5 HAIR STRAIGHTENER IN NEPAL | 2020
CLEANING TIPS FOR TAKING CARE OF YOUR MAKEUP BRUSHES
5 BODY SPRAY FOR WOMEN | REVIEWS
THINGS TO CONSIDER WHILE BUYING A FOUNDATION
TIPS FOR TAKING CARE OF YOUR MICROWAVE OVEN
Compiled by :

Prativa Parajuli