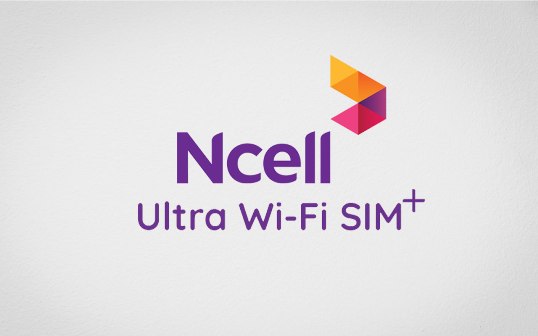 Ncell Introduces 'Ultra Wi-fi SIM Plus'
22nd August 2020
"Ncell brought hassle-free and affordable Wi-Fi solution for home and office."
Ncell has introduced Special Wi-Fi SIM under 'Plus' umbrella campaign which Ncell claims to be Hassle-free and affordable Wi-Fi solution for home and office. This service is available in all fourth generation (4G)/long term evolution (LTE) service locations across the country.
Under this offer, the customer can get two 4G sims with 40GB bundled data volume, bundled service of data, on-net talk time and digital services in each SIM card every month.
Customers can simply plug in this SIM in their handset or any 4G compatible device for data connectivity or they can use it in handsets, Mi-Fi devices and Wi-Fi routers to take Wi-Fi or hotspots service from other devices. Once the customers insert the SIM in any of 4G compatible devices, the nearest mobile tower of 4G network site will be locked, and the service will be accessible within the area served by that tower site.
Another special feature of this service is- the 24×7 customer service.
What is the cost and other services included?
The service costs Rs. 430 ( exc. taxes) per month. One has to be the yearly subscriber to use this service. The available packages in the service are:
The resources of this service will recur every 30 days. The resources will not accumulate and will expire after every 30 days. For futher information you can check the Ncell website or can call at the customer care number 9008.
This is a great initiation made by Ncell and people at Ncell are positive about it. The Chief Commercial Officer of Ncell Axiata, Pradeep Shrivastava said, "We are delighted to bring 'Ultra Wi-Fi SIM+', a hassle free and affordable Wi-Fi solution with bundled service to our customers in all 4G coverage areas. We believe that the access to service targeted for home and small businesses will further facilitate customers with opportunities of being connected and going online."
I believe that this new service will bring some revolutionary changes in current situation of people. Most people, throughout the nation, don't have internet access and are seeking out for ways to enter and explore the world online. For them, this service could make a huge difference.

Also Read:
5 BEST DIGITAL WALLETS IN NEPAL
TOP 5 REFRIGERATORS UNDER 50000 IN NEPAL
WHAT MEDICAL DEVICES SHOULD I HAVE AT HOME
BEST SMART WATCH AVAILABLE IN NEPAL
TOP 5 ONLINE SHOPPING SITES IN NEPAL | 2020
TOP 5 APPS EVERY NEPALI SHOULD HAVE | REVIEWS NEPAL
Compiled by :

Prativa Parajuli