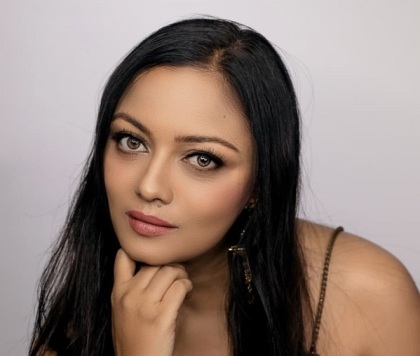 Reecha Sharma- My skin care routine is pretty normal and simple
21st November 2020
"My skincare routine is very simple and normal."
Reecha Sharma is a semi-finalist of the Miss Nepal 2007 pageant who started her journey as a model, later starred in many Nepali movies, hosted in TV shows, and currently, she is a producer as well. She shines wherever she goes with her confidence complemented by her glowing flawless skin. We recently had a short interview with her where she shared her secret and steps for attaining glowing skin like hers.
In the interview, we asked her if she could share her skincare routine and steps she usually follows to keep her skin beautiful and glowing. She gladly shared her skincare routine with us mentioning that her skin is dry and her skincare routine is pretty normal and simple. During that short interview, I realized that she is so humble and down-to-earth as a person.
"My skincare routine is very simple and normal; I would say." She began," Every day before going to bed, I put on some coconut oil. I've been using cold-pressed virgin coconut oil for the past one year and it has really changed my skin. Also, I clean my face with micellar water every evening. Even when I don't put on any makeup, I clean my face with water and then apply micellar water. Normally, I don't use much face wash but only at times when my face doesn't feel cleansed enough, I wash my face with a face wash. Before going out, I always apply sunscreen and moisturizer. It is a must for me. Also, I keep dabbing sunscreen in between as it helps and protects my skin from the sun."
"During the avocado season, I apply avocado and yogurt as a mask every week to keep my face hydrated and moisturized." She says, "Then, I scrub my face with a scrub made up of ayurvedic herbs, and then, I apply Lavanya's ayurvedic moisturizer."
As she mentioned coconut oil has changed her skin, I couldn't help myself and got really curious about how it changed her skin as I'd never heard anyone applying coconut oil in their face. But after listening to her, I felt that coconut oil is a cure for dry skin to prevent tightness and to keep one's skin hydrated.
She responded - "I had very dry skin before. I used to do body massage with coconut oil; so, I wanted to try it on my face. And I started doing that. I used to have really dry and flaky skin. I also used to get a lot of pimples. But, I liked cleaning my face with it. And it really started getting really shiner and soft. Since then, I couldn't stop using it."
---
Reviews is conducting a weekly contest. Answer a simple question and get a chance to win exciting gift hampers from Aiken Care Package. Go to our Facebook page for more details or also can check the details on our Instagram page.
---
Also Read:
THINGS TO CONSIDER WHILE BUYING A AN AIR CONDITIONER
5 BODY SPRAY FOR WOMEN | REVIEWS
TOP 5 FACE SERUMS THAT ARE AVAILABLE IN NEPAL
HEALTH AND FITNESS TIPS FOR WOMEN | REVIEWS
6 SKIN CARE APPLIANCES THAT YOU MUST GET YOUR HANDS-ON
DIFFERENT TYPES OF VACUUM CLEANERS AND THEIR FUNCTIONS
Compiled by :

Prativa Parajuli