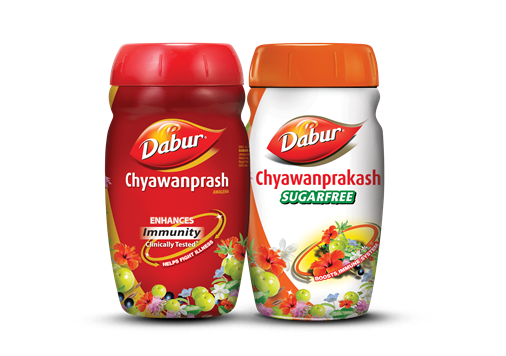 What to eat to stay healthy during Monsoon? | Chyawanprash
4th August 2021
"Want to make your immune system stronger and keep your body ready for the Monsoon season?"
Want to make your immune system stronger and keep your body ready for the Monsoon season?
Start taking chyawanprash every day and get healthier in a natural way.
• Chyawanprash is a blend of various herbal ingredients that are known for their health benefits and medicinal properties.
• Usually, chyawanprash is free from sugar and is sweetened with the help of stevia, jaggery, or honey.
• You can even go for special sugar-free packs of chyawanprash for diabetic people to improve immunity and overall health.

Modern and unhealthy lifestyle, it is difficult to maintain a strong immune system without any additional efforts. Boost up your immunity by taking chyawanprash every day.
Foods Like honey and chyawanprash is the natural immunity booster that will help to sail through the seasonal changes. Children are frequently exposed to disease-producing organisms.
Also read: 6 YOGA ASANA TO RELIEVE STRESS
A strong immune system provides a child with the natural defense to fight off diseases. Strengthen your child's immune system with a daily dosage of Chyawanprash.
Chyawanprash is a paste made of natural herbs that are known for medicinal usage and are effective to boost your immune system which your body healthier.
Dabur Chyawanprash is one of the most popular and preferred options available in Nepal.
Dabur Chyawanprash is made of essential 40 herbs like Ashwagandha- which has miraculous health benefits to the body and brain.
Dabur chyawanprash key ingredients
Amla is one of the main ingredients of Dabur Chyawanprash, Amla is a great source of antioxidants that helps in boosting immunity. Amla is a traditional Ayurvedic medicinal herb that acts as Rasayana, Dipana & Ruchya.
Pippali is the traditional herbs recommended in the treatment of cough, cold, respiratory ailments & diseases of the abdomen.
Bilva is an Ayurvedic ingredient of Dabur Chyawanprash. The science of Ayurveda values the Bilva for its root skin, fruit, and leaves that have high medicinal properties for strengthening immunity.
Also read: HOW TO PREVENT PREMATURE AGING
Saffron is known as Zafaran or Kesar. Saffron belongs to the Iris Family acts as a medical treatment for multiple diseases. The thread-like part of the Zafraan flower is used for many health and medicinal purposes. Saffron acts as a health restorative and helps keep one energetic & active.
Cardamom is an ingredient of Dabur Chyawanprash which has miraculous health benefits which keep your immunity intact. Cardamom is a seed pod, known for centuries for its anti-oxidant, disease prevention, and health-promoting properties. It is also a good source of minerals like potassium, calcium, and magnesium.
Ghee is full of fat-soluble vitamins (A, D, E & K ) and healthy fatty acids, and ghee benefits can range from building stronger bones to managing weight & strengthening eyesight. It also acts as a body cleanser as it removes impurities from your body.
Yastimadhu enhances immunity by boosting levels of Interferon - an important component of the immune system. It is considered useful in cough.
During Monsoon season some precautions should be followed:
•

You can take Chyavanaprash 10 gm (2 tables spoon) in the morning with lukewarm water routinely. (Diabetics patients should take sugar-free Chyawanprash)

•

Don't touch eyes, nose, or mouth

•

Cover nose, mouth with bent elbow or tissue during coughing & sneezing

•

Regular exercise for boosting the immune system

•

Eat food which boosts up the immune system and avoid junk foods
Also read
HOW TO PREVENT PREMATURE AGING
HOW TO CHOOSE CURTAIN FOR YOUR ROOM?
NATURAL INGREDIENTS THAT MAKE YOUR HAIR SHINIER AND HEALTHIER
HOW TO KEEP YOUR SOFA SET BRAND NEW?
RENAULT'S "RIDE WITH KIGER" | FIRST-DRIVE IMPRESSIONS
Compiled by : Team Reviews