Which type of boot would you prefer?
8th February 2021
"Style your outfit with fabulous boots this winter!"
When the cold wind starts to blow, you'll need to take out the boots from your wardrobe. Boots are a must staple for the winter, From over-the-knee to ankle boots, you can style your boot with a stylish outfit while staying warm. Let's get to know different types of boots.
Long boots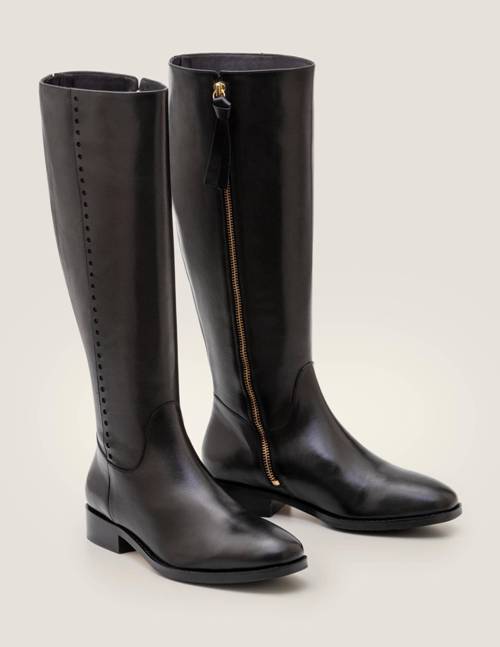 You'll never be short on style in tall boots! Tall boots are boots that are knee height, inspired by riding boots. From leggings to skinnies, tall boots are ideal to complete your casual outfits.
Wedge boots
Wedge boots feature a wedge at the heel for a more comfortable fit. Flaunt over-the-knee wedge boots with a mini skirt. Be chic and comfy in wedge boots this season.
Combat boots
Combat boots are lace-up leather boots worn by soldiers. They were popularized into the mainstream by the '90s grunge music scene. Now, combat boots have major appeal for a throwback punk look. For a chill vibe, rock combat boots with a white T-shirt, a plaid shirt tied around your waist, and ripped jeans.
Ankle boots
Make your feet the stars of your outfit with the latest ankle boots. Ankle boots are boots that come up to your ankles. They can have slip-on, lace-up, and zip-closure designs.
Over-the-knee boots
Take your fall/winter looks to great lengths in over-the-knee boots. Over-the-knee boots are typically made of stretch material that can be scrunched down for a stylish finish. They are perfect for pairing with mini-skirts, shorts, and skinny jeans.
Snow boots
Snow boots are made from water-resistant materials, snow boots keep your feet warm and dry during winter storms. For classic cold-weather style, check out shearling boots made from water-repellent suede uppers and cozy fur linings.
Also Read:
5 YOGA AASANA TO EASE PERIOD CRAMPS AND PAIN
WHY SHOULD YOU USE A MOISTURIZER?
6 TRENDING FASHIONABLE ACCESSORIES FOR YOU
POPULAR COSMETICS BRANDS IN NEPAL
TOP 5 FACE SERUMS THAT ARE AVAILABLE IN NEPAL
TIPS TO GET PERFECT EYEBROWS | REVIEWS
WHAT HAPPENS WHEN YOU OVER-EXFOLIATE?
Compiled by :

Prativa Parajuli