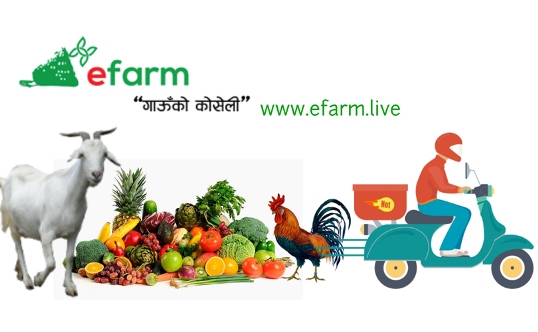 E Farm: Connecting Farmers with Urban Consumers
27th August 2020
"E Farm is the Nepal's largest digital platform where farmers and customer directly connect with each other."
E Farm is Nepal's largest digital platform where farmers and customer directly connect with each other. It is a platform where people in the capital city can order the vegetables, fruits and meat products from their home, and the order will be received within 24 hours at their doorstep.
Addressing the problems faced by local products in the market, E farm has taken an innovative step of commercializing the locally produced products through an online or digital platform. E farm has been purchasing the locally produced products from various rural areas throughout the nation and selling it to the consumers in the capital. They also have a farm of their own in Dhapakhel, Lalitpur where they produce fruits and vegetables on their own.
E farm has been purchasing goats from Letang and Dhankuta; ghee from Ilam; rice from Kaski; and Marsi rice, flour, black rice, dry apple, pulses, oats, maize, mustard oil from Jumla and have been delivering it to the consumer's doorstep. E farm has been providing its service even during this COVID-19 Pandemic.
One can place an order by logging into www.efarm.live or through their Facebook page or Instagram account; and, can pay via digital wallets or bank cards. Likewise, the farmers willing to collaborate and sell their products through efarm can contact them on 977-1-5229130.
"The objective of E farm is to provide suitable market price to farmers and to sell quality products to the consumers," said the founder of E farm Parmeshwar Shrestha. "We are playing the role of a bridge between consumers and farmers. Most of the farmers cannot reach their consumers directly. However, we are now directly connecting farmers to the consumers."

Also Read:
BEST SMART WATCH AVAILABLE IN NEPAL
TOP 5 SUVS IN NEPAL IN 2020 | UPDATED PRICE
SEDAN CARS AVAILABLE IN NEPAL WITH PRICES | SPECS
TOP 5 REFRIGERATORS UNDER 50000 IN NEPAL
WHY DOES ONE NEED LIFE INSURANCE?
TOP 5 ONLINE SHOPPING SITES IN NEPAL | 2020
BEST BUDGET FITNESS TRACKERS IN NEPAL
ESSENTIAL ELECTRONIC ACCESSORIES FOR EXERCISES OR WORKOUTS
Compiled by :

Prativa Parajuli