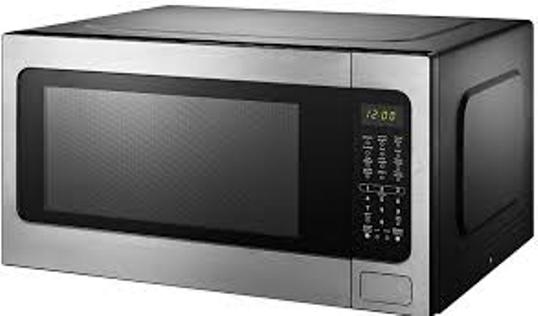 Things to consider while buying a Microwave Oven
17th October 2020
"Are you planning to replace your microwave oven or buying a new one? Don't forget to check a few things beforehand."
Microwave oven which is widely used especially by the westerners is currently increasingly even used in the eastern region. For fast and instant meals, and for the ones staying away from their family, the microwave oven has become lifesavers. As you use the microwave for a longer period and approximately for daily usage, you should keep important things in mind while buying it. To ease your confusion and inconvenience, we present you with the checklist that must be considered while buying a microwave oven.
Types of Microwave Oven
The microwave oven comes in different types. Depending upon the number of people who'll use it and the purpose of its usage, you can choose the right type for you and your family.
Solo/ conventional microwave oven
As its name suggests, is the cheapest as well as the smallest amongst all. It can be used only for basic cooking and comprises of the functions like reheating and defrosting. Mostly such a microwave oven has a capacity of 19-23 litres. It is convenient only for basic cooking and cannot be used for grilling and baking.
Grill microwave oven
Grill microwave oven is the conventional ovens with additional features including grilling and baking. Also, relatively they have a larger capacity and are expensive than the conventional microwave oven.
Convection microwave
Convection microwave ovens are the most popular and advanced ovens in the list. They have all kind of features from defrosting to grilling and making barbeque. They have a heating element along with a fan to pass the heat all
Size and capacity
The size and capacity of the microwave oven depend upon the number of people who'll be using it. So, if you have a large family then don't go with the 18 litres microwave oven rather go with the 23-24 litres microwave ovens. And, if you have a family of fewer than 3 members, then go with the 18-20 litres. Make sure to check the size and capacity of the microwave oven before buying.
Brand
Features and price are important; brands also matter a lot. Some brands may have a similar feature but the materials and the technology used may differ which ultimately affects the durability of the microwave oven.
Sensors
If you don't want to overcook or burn your food, then buy a microwave oven with an automatic sensor. With automatic sensors, the oven shuts down itself once the food is fully cooked.
Safety lock
If you have any child in the home, then do look for the safety lock feature. With safety lock features like child safety lock, you can avoid the misuse of the oven and prevent mishaps from happening.
Power rating or wattage
Higher the power rating/ wattage, the lesser the cooking time. Normally, every food recipe asks for at least 800 wattages of power for the food to be cooked properly. And, the microwave oven's power rating normally range between 600-1600 wattage. Thereupon, invest in the one with optimum wattage to get the most out of your money.
Additional features
If you want to use your microwave oven for multiple purposes, then look out for additional features like grilling, baking, etc. Besides these, you may get one with a smart display, touch control panel, auto menu, etc.
---
Reviews is conducting a weekly contest. Answer a simple question and get a chance to win exciting gift hampers from Aiken Care Package. Go to our Facebook page for more details or also can check the details on our Instagram page.
---
Also Read:
5 HACKS TO IMPROVE FUEL EFFICIENCY OF YOUR CAR
HOW CAN YOU MAKE YOUR HOME WIFI PRIVATE?
INDEX FURNITURE DASHAIN TIHAR OFFER 2020
WHY IS GAMING MOUSE BETTER THAN NORMAL MOUSE?
TOP 5 SHOWER GELS IN NEPAL | REVIEWS NEPAL
TOP ONLINE FURNITURE SHOWROOMS AND STORES IN NEPAL
Compiled by :

Prativa Parajuli